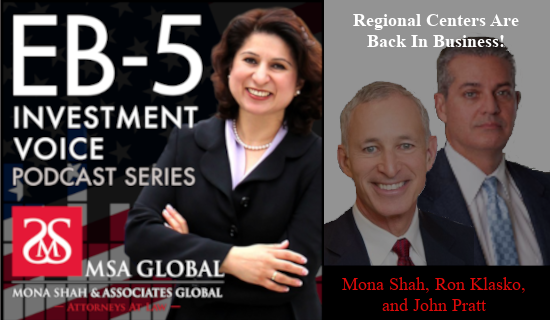 Regional Centers Are Back In Business! – Episode 162
After months of confusion from USCIS and a stalled Regional Center program, a district court ruling has finally reauthorized all Regional Centers previously certified before the program lapsed a year ago. The good news is that Regional Centers can now begin taking in capital from investors and filing I-526 petitions, but it's not that simple. Tune in for a special episode of 'EB-5 Investment Voice' where Mona sits down with Ron Klasko (Klasko Immigration Partners, LLP) and John Pratt (Kurzban Kurzban Tetzeli and Pratt P.A.) to go into detail about Regional Center reauthorization – including the legislative efforts, the future of the program, and what projects and investors should be doing right now.
---
Guest Speakers
Ron Klasko is one of the U.S.'s leading lawyers representing treaty investors (E-2) and green card investors (EB-5). He leads his firm's EB-5 Team and has represented thousands of investors, over 50 regional centers, and numerous U.S. developers in the EB-5 program. Ron was the lead attorney on the Matters of Walsh and Pollard case, the key precedent for E-2 visas. Klasko Immigration Law Partners is the North America Regional Representative office of the Investment Migration Council, of which Ron also serves on the Governing Board. Ron is currently chair of AILA's High Impact Litigation Committee, is a past President and General Counsel of AILA, and served five terms as Chair of the EB-5 Committee.
John Patrick Pratt received his Bachelors of Arts from Florida State University with honors in 1994. He graduated from Tulane University School of Law, receiving his juris doctor degree in 1997. Mr. Pratt also studied abroad at the University of Paris, and is fluent in Spanish. Mr. Pratt is admitted to the bar of the State of Florida, District of Columbia, United States District Court for the Southern District of Florida, United States Court of Appeals for the Eleventh Circuit, United States Court of Appeals for the Ninth Circuit, and United States Supreme Court. He is a member of the American Immigration Lawyers Association, and the American Bar Association.