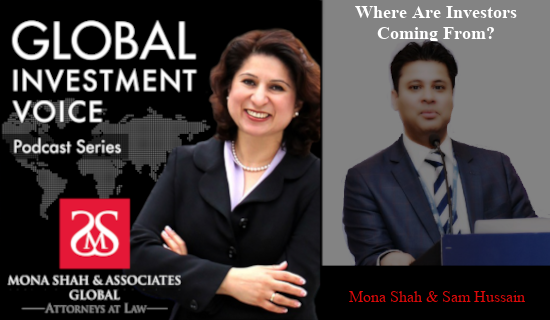 Where Are Investors Coming From? – Episode 163
As the EB-5 program has undergone drastic changes this past year, so has the demographic makeup of investors. In this episode, Mona is joined by Sam Hussain (BLS Global) to discuss the shift in global investors and analyze topics such as the most popular residency programs, who wants to come to the US versus other countries, and even which countries US citizens themselves are migrating to. If you're in the Citizenship by Investment industry or would like to know where the markets are, this is the episode for you!
Guest Speaker
Sam Hussain serves as the director of British publishing house BLS Global, the premiere educational platform for individuals and families pursuing global citizenship. Founded in 2010, BLS Global are recognized leaders in the field of investment immigration, Foreign Direct Investment and organize leading Global Investment Immigration Summits, headquartered in central London with offices in Asia, Middle East and Africa. They are worldwide pioneers in organizing events within emerging investment immigration markets and engaging high-net-worth and ultra-high-net-worth individuals through their investment portfolio CBI Global. They work closely with governments and intermediaries with investor programs that have raised more than USD 200 billion in direct investment.