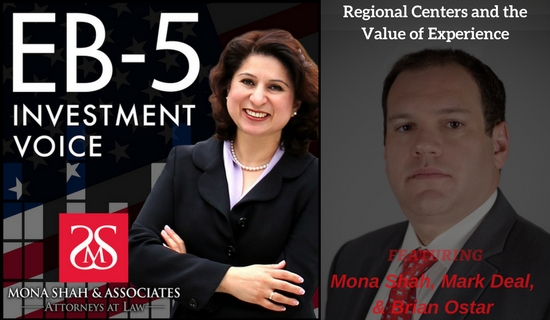 Regional Centers and the Value of Experience with Brian Ostar – Episode 58
When EB5 Capital was founded in 2007, it was among the first of the Regional Centers. Today, Mark and Mona are joined by Brian Ostar, Senior VP and Director of Global Operations, to discuss how the Regional Center space has changed over the years. They cover the two major categories of Regional Center, the impact of retrogression in China, and the underlying cause of the current discrepancy in interest rates.
What is more important: Choosing a Regional Center with extensive experience in the EB-5 industry? Or selecting a Regional Center with a track record in the field of the project itself? A balance of both is ideal, of course, and the most important consideration is to distinguish a project that suits your circumstances and fulfills your needs as an investor.
Brian Ostar serves as the Senior Vice President of EB5 Capital, a firm that owns and operates USCIS-approved Regional Centers in DC, California, New York, Texas and Oregon. EB5 Capital serves clients in 54 countries around the world, and the Regional Center has completed 24 projects to date—with a 100% I-526 and I-829 approval rating. As Director of Global Operations, Brian oversees EB5 Capital's investor development and relations, agent communications, and immigration matters.
Today, Brian joins Mona and Mark to discuss the how the Regional Center space has evolved since EB5 Capital came into being in 2007. They discuss the distinctions between independent Regional Centers and those put up by developers and how the dramatic decrease in business out of China has impacted Regional Centers in general and EB5 Capital specifically. Listen in to understand how retrogression in China has contributed to the interest rate discrepancy and learn why the better Regional Centers are able to offer lower interest rates.
The Evolution of the Regional Center
Founded in 2007, EB5 Capital was one of the first Regional Centers. In its early days, securing one or two investors per month was cause for celebration. Today, the firm recruits 50 to 60 investors in three or four months.
Today, there are in excess of 1,000 Regional Centers and those numbers drive competition. As a result, the standard of projects has risen dramatically in recent years.
The Value of Experience
While Brian contends that investors are drawn to EB5 Capital because of its track record, Mona argues that experience in the niche industry (i.e.: real estate) may be more important than a background in EB-5, especially since older Regional Centers have been plagued with lawsuits. At the end of the day, EB-5 is a complex, specialized industry, and a balance of experience with the program and the type of project is ideal.
It is important to find a good attorney, build a team you trust, and select a Regional Center with a track record of success. But the most important factor is identifying a project that fits you and fulfills your needs. EB5 Capital serves clients in 54 countries, and different investors from different regions are attracted to different kinds of projects.
Independent vs. Developer Regional Centers
Developers can put up their own Regional Center and enjoy a cost savings. However, if they do not have the infrastructure, network, or experience in raising money, it would be preferable to rent a Regional Center or partner with an experienced one like EB5 Capital.
EB5 Capital is of the 'old guard' of independent Regional Centers. Their advantage lies in the fact that the firm represents investors only, and as such, they can say 'no' to terms like a construction perm that prevents investors from getting their money back for ten years. (All of EB5 Capital's 24 projects to date have repaid investors within five years.)
Expensive Agents and Retrogression in China
The dramatic decrease in business out of China has had a significant impact on a number of Regional Centers, but EB5 Capital's efforts to be as expansive as possible have insulated them from becoming dependent on investors from a single country.
EB5 Capital focuses on relatively small projects that average 50 to 60 investors. Thus, they have never had to rely on expensive agents, and their projects fill up quickly.
The Interest Rate Discrepancy
Some projects have had interest rates as low as 0.025%, while others have paid investors as much as 4%. Interest rates are affected by the rates paid to investors, agents and the Regional Centers themselves.
EB5 Capital works to keep its interest rates for investors in the .5% to 1% range, and they are careful not to ask developers for too high a rate because once you get into the range of traditional capital (10%-15%), EB-5 is rendered obsolete. EB5 Capital makes it a point to stay within the 6%-7% range.
Better projects get cheaper capital, and better Regional Centers offer lower rates because there is enough demand to fill the open spots. A Regional Center offering a higher interest rate could indicate a lack of experience or options on the part of the either the Regional Center or the developer.