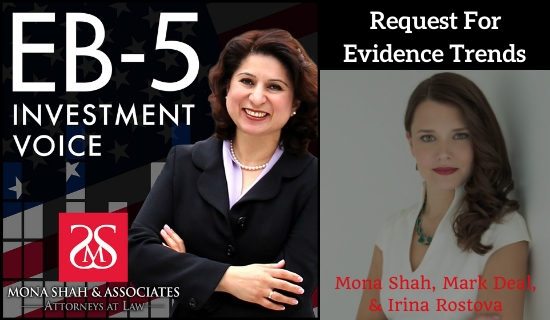 Request For Evidence Trends with Irina Rostova – Episode 105
What are the common themes among the high volume of RFEs issued by USCIS? On this episode, Mona and Mark are joined by Irina Rostova to discuss the top RFE trends on both the investor and project side of EB-5. Listen in to understand what the agency is looking for in terms of proof of lawful income, accumulation of funds, and third-party transfers.
The number of requests for evidence (RFEs) issued by USCIS has increased dramatically in recent months. What are the common themes among these RFEs? And what can we do to satisfy USCIS, even when their requests seem unreasonable?
Irina Rostova is an experienced attorney with expertise in the EB-5 visa program and business visas, overseeing hundreds of in-progress and pending immigrant investor petitions. In fact, Irina represents approximately 25% of all Russian EB-5 investors. On this episode of the podcast, Irina joins Mona and Mark to discuss the top RFE trends, both on the investor and project side of EB-5.
Irina describes her role as the Chairperson for the IIUSA Public Policy Committee and shares her expertise in the increasingly popular Russian EB-5 market. She also weighs in on the upswing in administrative processing and the misguided "presumption of guilt" that investors and projects must overcome. Listen in for Irina's insight on RFE trends around the accumulation of funds, proof of lawful income, material change, and third-party transfers.
IIUSA's Public Policy Committee
· Irina serves as the Chairperson for the IIUSA Public Policy Committee, a group tasked with identifying issues that impact the EB-5 industry as a whole. The committee includes experts in every area of EB-5, including attorneys, economists, Regional Centers and bankers.
· When possible, the IIUSA Public Policy Committee resolves these issues internally via best practices. For issues like processing times or the inability to seek guidance on the new regulations, the committee proposes solutions through USCIS.
EB-5 in the Russian Market
· Despite the increase in minimum investment that came with the new EB-5 regulations, there is still much interest in the program in the Russian market. (The Russian market encompasses the country of Russia as well as the former Soviet republics where most of the population speaks Russian, many of which are new to EB-5.)
· Russian investors had preferred European and Caribbean migration programs until Brexit created uncertainty in the EU. Now, more and more Russian investors are considering the US (and its opportunities in the tech and finance space).
· Very long processing times have become a deterrent to EB-5 for many foreign investors. However, countries like Russia and Brazil that don't have an E-2 treaty with the US simply don't have a more affordable alternative.
General RFE Trends in EB-5
· USCIS does not seem to understand the burden of proof, as agency staff is taking on due diligence tasks they are not trained for and slowing down the process. Irina contends that there is an overall presumption of guilt that investors and projects are being asked to overcome.
· If the intention of USCIS is to reduce fraud, their approach is flawed. Irina points out that longer processing times allow bad actors to stay in the game much longer.
· Mona and Irina have also noticed that USCIS is adjudicating I-526 petitions as if they are I-829s. And yet, the standards by which an I-829 is adjudicated (i.e.: flow of funds and job creation) are not applicable at the I-526 stage.
RFE Trends on the Project Side
· Material change is a trending issue in RFEs on the project side, and Irina advocates for differentiating between what is material for EB-5 purposes versus a general material change in a project. For example, changing the color or structure of a building would not constitute a material change for EB-5 purposes because job creation is not affected.
· Another trend in RFEs involves asking projects to show how an NCE that provides capital to multiple JCEs is tracing its funds and how an investor knows which project they are participating in. This information is apparent in both the PPM as well as the escrow agreement, so Irina suspects that this trend is a response to the Jay Peak fraud case—though it is up to the escrow agent to follow the instructions given, not the investor.
· USCIS is also requesting source of funds documentation for co-investors (e.g.: the developer) who are not seeking a green card. Though the agency is technically allowed to ask for this information, it seems unreasonable since co-investors are not subject to the same standards as those in EB-5.
RFE Trends on the Investor Side
· USCIS is asking investors to show the accumulation of funds and savings in a foreign investor's bank account. This is unfair to EB-5 petitioners living in countries where the banking system is less stable (e.g.: Russia, Vietnam, etc.) who earn money lawfully and then keep it as cash in a safe deposit box.
· Another trend is for USCIS to request additional evidence verifying that company is actually doing business (and not just a shell company). Providing personal and business tax returns is no longer sufficient proof of lawful income; the agency wants to see detailed documentation like invoices and contracts with clients.
· USCIS also wants to see licenses for any company used in a third-party transfer. Investors who transfer funds through another business or entity must provide evidence that it is a legitimate business and that funds were either returned or paid for services in the US.
The Upswing in Administrative Processing
· Administrative processing has become standard operating procedure in the last few months, as consular officers under immense pressure from the extreme vetting initiative instituted by the Trump administration simply can't make a decision. This practice has the greatest impact on foreign investors from Russia and the Middle East.
· Immigration visa interviews that used to be a 10-minute formality have become 90-minute meetings. Investors are asked questions irrelevant to their petition and sent to administrative processing should they have any business connection to a possible lawsuit or even a negative news article.