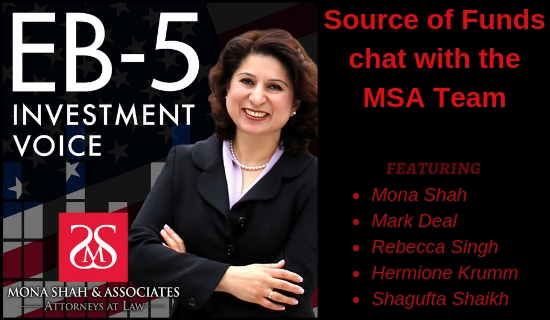 Source of Funds talk with the MSA Team – Episode 86
What should EB-5 investor-applicants be thinking about when it comes to Source of Funds? On this episode, Mona and Mark are joined by MSA attorneys Rebecca Singh and Hermione Krumm, and Senior Paralegal Shagufta Shaikh to discuss the challenges around filing with multiple sources and the rules regarding loans and gifts. Listen in for insight on navigating currency restrictions and learn how to proceed in light of the new regulations coming in November.
There is a misconception among EB-5 investor-applicants that documenting source of funds is easy, when in fact, it can take a great deal of time—especially if you are scrambling to put together the $500K minimum from multiple sources in advance of the fast-approaching November deadline.
On this episode of EB-5 Investment Voice, Mona and Mark sit down with experienced MSA lawyers, Rebecca Singh and Hermione Krumm, and Senior Paralegal Shagufta Shaikh, who has been practising EB-5 for more than a decade, to discuss top EB-5 investor concerns around source of funds—in light of the new regulations taking effect on November 21st. They explain the danger in submitting skeletal filings and address the lack of clarity when it comes to the issue of partial filings.
The MSA team covers the challenges around using multiple sources of funds (especially for Indian investors whose money may be tied up in assets and investments) and share the rules around leveraging loans and gifts as potential sources of funds for EB-5. Listen in for an overview of the disappointing EB-5 Modernization Stakeholder Call and get the MSA team's insight on currency restrictions in India and recent trends in RFEs.
---
The EB-5 Modernization Stakeholder Call
USCIS leadership blamed adjudication delays on the government shutdown and a pivot to I-829 and standalone cases, though MSA hasn't seen a great deal of progress in those areas either—despite the 212 staff members at the agency as of July 2019.
Understanding the November 21 Deadline
The new regulations go into effect on November 21, 2019. To get in before the new rules, USCIS must receive EB-5 investor petitions on or before November 20th, and MSA is encouraging clients to file well in advance of the deadline.
MSA is also cautioning clients against skeletal filings. A policy memo published in July 2018 (effective September 2019) gave USCIS full discretion to simply deny any applications that were submitted without ALL the required initial evidence, without sending an RFE or NOID.
The Issues Around Partial Filings
The immigrant investor must establish that they have invested or are "actively in the process of investing" in the EB-5 project. While the statutes are unclear on the scope of the term "actively in the process of investing", the regulations make clear that the term is narrowly interpreted. Investors have to show "irrevocable commitment", not merely an intent to invest. How this can be interpreted is open for discussion.
The new regulations only explicitly name one situation for "actively in the process of investing", i.e. the escrow scenario.
Multiple Sources of Funds
Many of MSA's Indian clients have funds tied up in assets and investments. As a result, they are scrambling to liquidate or sell their businesses and other assets, procure gifts and loans, or use their business and/or employment income to generate the $500K investment minimum.
MSA encourages clients to consolidate their sources of funds when possible. An application with 20+ sources will take much longer to be adjudicated, and it has a greater chance of being RFE'd or denied. And if your petition is denied due to failure to satisfy the source of funds requirement, you do NOT retain your priority date.
The Pros and Cons of Loans vs. Gifts
A 2015 USCIS policy remark established that unsecured loans were not allowed as a source of funds for EB-5. Then, in 2018, the case of Zhang v. USCIS ruled that unsecured loans ARE permissible.
Nevertheless, MSA encourages clients to err on the side of caution when it comes to unsecured loans due to potential disputes in case of default.
If an investor is using gifts from family and friends as a source of funds, there are limits around how much they can give. (MSA encourages investors to speak to their CPA or chartered accountant regarding the tax consequences of accepting gifts.)
Currency Restrictions in India
Every country has its own foreign currency exchange rules. Under the Liberalized Remittance Scheme (LRS), for example, the Indian government sets the bar at $250K per individual per year for outbound transfers—without special permission required.
It is becoming more common for Indian banks to note that the account holder's money is being invested in EB-5 and require project subscription documents before allowing funds to go through.
Recent Trends in RFEs
Starting in 2017, the EB-5 industry started receiving Request for Evidence (RFE) notices for minor investors. MSA has successfully argued against USCIS's claims that minor investor's contracts are voidable.
In recent months, MSA has received RFEs requesting evidence that was already submitted in the original petition and asking unnecessary questions. Rebecca and Hermione suspect that this is USCIS's way of putting certain cases on hold in an effort to catch up.