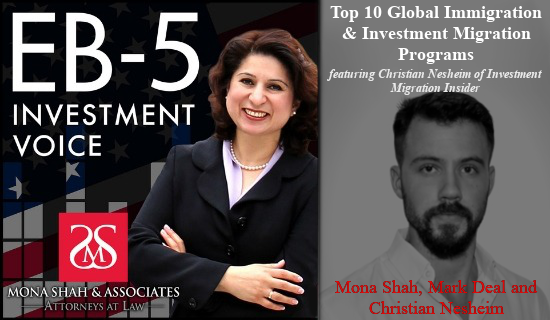 Top 10 Global Immigration & Investment Migration programs featuring Christian Nesheim of Investment Migration Insider – Episode 122
Investment immigration programs are offered across a wide range of countries and, over the years, countries like the United States have become very attractive to prospective investors pursuing dual citizenship. On this episode, Mona and Mark are joined by Christian Henrik Nesheim of Investment Migration Insider to discuss the many countries that offer citizenship by investment around the world, the terms of these investment requirements and how these programs compare. Factors such as the minimum investment amount, the length of time required for processing and the tax implications must all considered in determining which country is right for you. Listen in to hear what countries ranked in the top 10 highest-grossing immigration investment programs in 2019 and what contributes to the United States' ranking as the number one in the world.
Christian Henrik Nesheim is the founder and editor of Investment Migration Insider, the #1 magazine – online or offline – for residency and citizenship by investment. He is an internationally recognized expert, speaker, documentary producer, and writer on the subject of investment migration, whose work is cited in the Economist, Bloomberg, Fortune, Forbes, Newsweek, and Business Insider. Norwegian by birth, Christian has spent the last 14 years in the United States, China, and Spain.
Citing a recent article on Investment Migration Insider, Christian discusses how ten programs alone raised nearly ten billion dollars last year, according to most recent figures. A handful of programs are hitting all-time highs during the height of the pandemic in 2020 and on this episode, Mona, Mark and Christian discuss the comparison of investment volume trends in 2020 among the top performing programs as well as contrast these programs with the EB-5 Visa Program in the United States. Listen in to understand the variety of dual citizenship options available to investors and which country may be right for you.
---
As reported by Investment Migration Insider, the following represent the 10 highest-grossing immigration investment programs in 2019, numbered in order of investment volume:
The US EB-5: US$1.8 billion
The Cyprus CIP: US$1.48 billion
The Turkey CIP: US$1.34 billion
The UK Tier 1 Investor: US$959 million
The Portugal Golden Visa: US$885m
The New Zealand Investor Visa: US$860m
The Greece Golden Visa: US$835m
The Spain Golden Visa: US$850m
The Australia Significant Investor Visa: US$703m
The Malta Individual Investor Program: US$280m
More information on these figures is available at: https://www.imidaily.com/intelligence/10-biggest-investment-migration-programs-raised-a-collective-us10-billion-last-year/