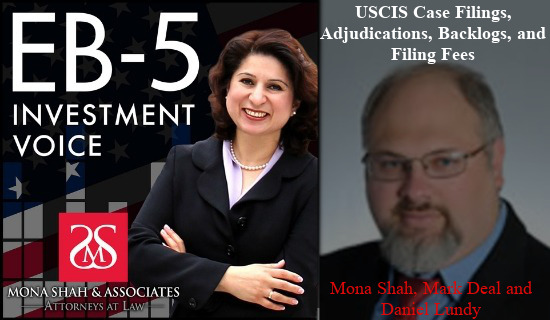 USCIS Case Filings, Adjudications, Backlogs, and Filing Fees – Episode 118
On July 29, 2020, the Subcommittee on Immigration and Citizenship (U.S. House of Representatives' Committee on the Judiciary) held a hearing on the "Oversight of U.S. Citizenship and Immigration Services." The hearing discussed USCIS's recent request for $1.2 billion in emergency funding, planned furloughing of 13,000 employees and what is being reported as a "massive decrease" in case filings. However, recent reports show quite a different story. Listen in to hear how USCIS is actually faring better than we have been led to believe, as well as the Service's recent changes in case processing times, backlogs and filing fees.
Daniel B. Lundy is an attorney at Klasko Immigration Law Partners, LLP and leads the firm's EB-5 Developer & Regional Center and Compliance practices. Mr. Lundy has successfully represented numerous immigrant investors in their EB-5 petitions and applications, including investors seeking permanent residence through their own businesses or into a USCIS-approved Regional Center. He has substantial experience with complex and challenging cases and is frequently retained to assist clients at the appeal or RFE/NOID stages, after other attorneys have been unsuccessful.
On this episode of EB-5 Investment Voice, Mona, Daniel and Mark sit down to discuss the hearing that took place last week and the changes we will be seeing at USCIS over the next few months. Listen in for insights from EB-5 industry experts on a variety of topics ranging from USCIS's budget and filing fees to redeployment and regional center oversight
---
USCIS and its Alleged Financial Woes
A Judiciary Committee hearing regarding oversight of USCIS was held on July 29, 2020.[1] The hearing was scheduled to discuss USCIS's recent funding request of $1.2 billion, the furloughing of 13,000 employees expected to go into effect in August 2020[2] and the striking slowdown in USCIS services over the past few months.
IIUSA submitted a data report[3] that provides a quantitative review of USCIS revenue collection from filing fees. Daniel heavily contributed to the preparation of this report.
The report observed that the increase in adjudication (18% year-over-year) is greater than the increase in total receipts (9% year-over-year) when compared to last year. In fact, USCIS's latest financials do not show a deficit, but rather evidence the Service will end the year with a surplus.
EB-5 and Filing Fee
EB-5 filings dramatically increased prior to introduction of new EB-5 regulations in 2019.
Even though filing fee for Form I-526 is extremely high, the adjudications have been slow.
In March 2020, backlog of EB-5 forms (I-526, I-829, I-924, and 924A) represented a total of nearly $108 million in filing fees as of Q2 FY2020
Extent of Due Diligence Required by Regional Centers
USCIS has never explicitly stated what standard of due diligence is required for regional center oversight. Form I-924 requires that the proposed regional center present a plan to conduct due diligence, but there is no direction provided to judge such a plan.
Escrow agents and banks conduct OFAC and AML reviews on investors prior to releasing the invested capital, and will reject the funds should any red flags arise. If the same is sufficient for the treasury department, it should be good enough for USCIS.
A Recent Uptick in NOITs
USCIS has issued a large degree of Notices of Intent to Terminate (NOIT) to regional centers. Previously USCIS issued NOITs to regional centers for a continuous three-year period of inactivity, however it seems USCIS is no longer following this timeline.
This can cause severe impacts to investors, putting into jeopardy a significant amount of invested capital, the ability for investors to procure temporary and permanent green cards and other far-reaching economic consequences.
Recent Guidelines on Redeployment
Redeployment guidelines were provided long after industry stakeholders, such as Daniel and Mona, requested that USCIS provide additional clarifications and explanations.
A number of regional centers have already redeployed EB-5 capital outside of what has now been articulated in the recent guidelines, causing fear and confusion from those who interpret the guidelines to be retroactive.
USCIS is accepting comments on these new regulations until August 24, 2020 and every stakeholder should make it a point to provide feedback to USCIS. To submit your comments, please email public.engagement@uscis.dhs.gov
---
[1] https://judiciary.house.gov/calendar/eventsingle.aspx?EventID=3145
[2] https://mshahlaw.com/new-legislation-to-bail-out-uscis-furloughs-fees-to-increase/
[3] https://iiusa.org/blog/wp-content/uploads/2020/07/IIUSA-report-for-record-submission_7.29.20-HJC-hearing.pdf