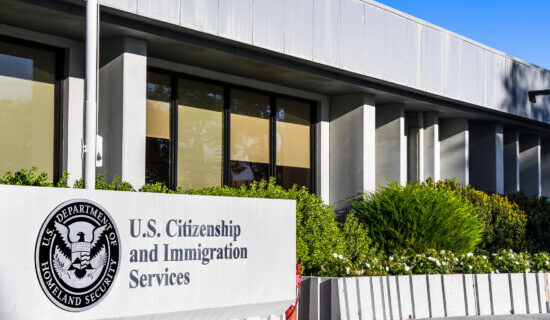 New Legislation to Bail out USCIS' Furloughs; Fees to Increase
By Christina Dilbone, Esq.
Mona Shah & Associates Global
New legislation is to be introduced that would bail out U.S. Citizenship and Immigration Services (USCIS) and avoid the scheduled furloughs expected to impact a whopping 70% of its workforce.
A bill to be introduced by Reps. Emanuel Cleaver and Jeff Fortenberry would allocate up to $1.2 billion in emergency funding for USCIS as the Service continues to plead with Congress to provide emergency supplemental funding totaling $1.2 billion over a two-year period. "Although I want to see policy changes made at USCIS, during the compounding public health and economic crises, preserving jobs and processing applications for workers and companies that have been waiting for months must be the first step," Cleaver said in a recent statement.[1]
While USCIS typically generates revenue through mandatory fees submitted with immigrant applications, the number of applicants has dramatically decreased over the past few months in the midst of the COVID-19 pandemic and the President's proclamations suspending certain immigration[2], both causing the Department of Homeland Security to send out furlough notices to 13,350 of the 19,000 total U.S. Citizenship and Immigration Services (USCIS) employees. These furloughs are scheduled to go into effect on August 3rd and reportedly last up to 90 days. In addition to these measures, USCIS is also pressing Congress to approve a new 10% increase to its applicant fees, which are often already unreasonably high, providing yet another hurdle for those seeking to make the U.S. a temporary or permanent home.
In a statement issued to the Messenger Monday evening[3], Senator Patrick Leahy blamed USCIS's financial woes on "financial mismanagement and poor policy choices by the Trump administration" as well as the COVID-19 pandemic. The Senator is also pushing for Congress to provide funding to USCIS, but instead by including it in the next COVID-19 relief bill. The Senator continues to admonish the President's current efforts "to erase our identity as a nation of immigrants", further stating "he [the President] has not just tried to shut our nation's doors to asylum seekers and refugees; he has attempted to restrict almost all immigration to this country."[4] Sen. Leahy is perhaps best known in the EB-5 community for his active promotion of the EB-5 Reform and Integrity Act (S.2540), which was reintroduced last year on September 27 and endeavors to add integrity measures to the EB-5 Regional Center Program in order to prevent fraud and to promote and reform foreign capital investment and job creation in American communities.[5]
While USCIS continues to plead with the federal government for funding, case processing times are continuing to slow and grow stagnant while EB-5 attorneys notice an increase in Requests for Evidence (RFE), Notices of Intent to Deny (NOID) and unwarranted Denials. The Ombudsman's Office issued a statement on July 13 warning of similar inefficiencies it may encounter as well. Though assuring the public of the Ombudsman's continued commitment to processing and submitting requests for case assistance, it anticipates delays in the wake of USCIS employee furloughs, which it stated would have an "impact on the Ombudsman's ability to work with USCIS on reviewing and recommending solutions to systemic problems in the administration of immigration benefits."[6]
Further impacts come in the form of in the form of current significant delays in the printing of roughly 50,000 green cards and 75,000 employment authorization documents (EAD cards) due to the financial condition of the Service.[7] And while a forthcoming bailout may enable immigration services to return to normal, it may also usher in a new era of agency oversight. The USCIS budget has long been composed of fees charged for processing of applications and forms, rather than congressional appropriation. According to analysts at the Migration Policy Institute, "Congress now has a rare opportunity and responsibility to provide clear mandates that guide USCIS in properly fulfilling its congressionally mandated mission."[8] In short, an influx of cash might not only bring processing times back up to their usual plodding pace and discourage unnecessarily harsh final decisions, it may also bring additional oversight and accountability to the Service's budget.
An upcoming hearing regarding the "Oversight of U.S. Citizenship and Immigration Services" has been scheduled by the Subcommittee on Immigration and Citizenship (U.S. House of Representatives' Committee on the Judiciary) for Wednesday, July 29, 2020 at 10:00 AM. The Subcommittee is expected to discuss the current problems plaguing USCIS, including the current funding request of $1.2 billion, employee furloughs expected to go into effect in early August and the striking slowdown in USCIS services over the past few months. The hearing will include statements from Jospeh Edlow, Deputy Director of Policy at U.S. Citizenship and Immigration Services; Sharvari Dalal-Dheini, the Director of Government Relations at American Immigration Lawyers Association (AILA); Michael Knowles, the President of American Federation of Government Employees Local 1924; Doug Rand, Senior Fellow at Federation of American Scientists; Jessica Vaughan, Director of Policy Studies at the Center for Immigration Studies.
The hearing is expected to be live streamed on Wednesday, July 29, 2020 at 10:00 AM at: https://judiciary.house.gov/calendar/eventsingle.aspx?EventID=3145&utm_source=AILA+Mailing&utm_campaign=6518ae87df-AILA8-07-23-2020&utm_medium=email&utm_term=0_3c0e619096-6518ae87df-287744001
---
[1] https://www.samessenger.com/news/new-legislation-seeks-to-bail-out-uscis-prevent-furloughs/article_be82116c-cac1-11ea-91bd-a3b0355aa96b.html
[2] https://www.whitehouse.gov/presidential-actions/proclamation-suspending-entry-aliens-present-risk-u-s-labor-market-following-coronavirus-outbreak/
[3] https://www.samessenger.com/news/leahy-administration-fails-to-lead-as-uscis-furlough-notices-begin-to-arrive/article_2397bf60-ba65-11ea-a886-df99163e80dd.html
[4] https://www.leahy.senate.gov/press/statement-on-impending-furloughs-at-the-united-states-citizenship-and-immigration-services
[5] More information on the Bill is included on our website at https://mshahlaw.com/state-play-washington-october-2019/#_ftn2
[6] https://www.aila.org/infonet/uscis-ombudsmans-office-to-be-adversely-impacted
[7] https://www.washingtonpost.com/opinions/how-the-trump-administration-is-turning-legal-immigrants-into-undocumented-ones/2020/07/09/15c1cbf6-c203-11ea-9fdd-b7ac6b051dc8_story.html
[8] https://www.migrationpolicy.org/news/uscis-severe-budget-shortfall
---
About the Author:
Christina Dilbone, Esq.
Christina Dilbone specializes in EB-5 investments, private securities offerings and source of funds documentation. Her experience includes working in immigration law and international development within both law firms and intergovernmental organizations. Christina previously worked at the International Peace Institute (IPI) and was recognized for her pro bono work at the International Development Law Organization (IDLO)'s United Nations Permanent Observer office in New York. She graduated from the University of Florida's Levin College of Law in 2019 and is admitted to practice law in Florida.