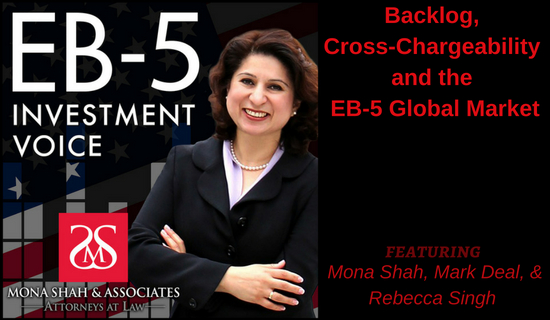 Backlog, Cross-Chargeability and the EB-5 Global Market – Episode 61
In the aftermath of Charlie Oppenheim's recent keynote at the IIUSA's EB-5 Advocacy Conference in DC, many questions have surfaced around retrogression, backlog and cross-chargeability. Today, Mona, Mark and Rebecca explain the distinction between the terms retrogression and backlog and review the countries that are likely to face a backlog by Summer 2019. They discuss when and how to apply cross-chargeability and the best places to find investors in the global EB-5 market.
EB-5 is, indeed, a global market, seeing that investors from all over the world are interested in becoming permanent residents of the US. How do developers go about finding those investors—and vice versa? Where are the most promising hubs for EB-5? And what do potential investors need to know about the current and forthcoming backlogs in countries like China, Vietnam, India, Brazil, Taiwan and South Korea?
Mona, Mark and Rebecca begin by addressing the confusion regarding backlogs and retrogression that has surfaced since the recent EB-5 Advocacy Conference in DC, explaining the difference between the two terms and reviewing which countries are likely to face a backlog by the summer of 2019. They go on to discuss the concept of cross-chargeability, describing the circumstances under which it may be applied as well as the other EB-5 guidelines set forth in the USCIS Adjudicator's Field Manual.
Finally, Mona, Mark and Rebecca speak to the issue of EB-5 hubs, reviewing the best places for developers to connect with investors in the global market. They break the world down into regions and share the benefit of marketing in cities such as Dubai, London, Moscow and Singapore.
Retrogression vs. Backlog
At present, China and Vietnam are the only two countries in backlog. EB-5 applicants in those countries with a priority date of August 1, 2014, are eligible to file for a green card in June 2018. Chinese and Vietnamese applicants DO NOT have to wait to file their I-526 petition but should do that as soon as possible.
A Final Action Date (FAD) indicates the end of a current visa status for a country. Retrogression comes about when the FAD is moving backward in time rather than forward. Though both are moving very slowly, China and Vietnam are not in retrogression.
There will be a backlog in India by June of 2019. Be aware that the backlog date could go back to September of 2018, for example, or a point even earlier. (The backlog in China was announced in May 2016, and it went all the way back to May of 2014.)
We are also looking at backlogs for Brazil, South Korea and Taiwan by the summer of 2019. These dates could change if, for example, advocates are able to get dependents taken out of the quotas. Right now, dependents do count toward the visa numbers.
Cross-Chargeability
Your country of citizenship has no impact on chargeability. Rather, you are required to use your country of birth for EB-5. For instance, if you were born in India but moved to the UK as a child, you cannot use your UK citizenship to petition for EB-5.
The concept of cross-chargeability does allow you to use your spouse's country of birth to petition for EB-5. (Unfortunately, cross-chargeability only works for a spouse, not a child or dependent.)
Employ cross-chargeability in the second phase of the EB-5 approval process. The purpose of the I-526 is to collect source of funds and project information.
EB-5 Investor Hubs
It is useful to think about the global EB-5 market in terms of regions: Latin America, Central Asia, Southeast Asia, East Asia, the EMEA countries (Europe, the Middle East and Africa), and Australia/New Zealand. Developers looking to find investors in the global EB-5 market should start with the hubs.
One obvious hub is Dubai, where expats from all over the world live and work. There is no permanency to living in the UAE as the country doesn't offer citizenship, so many expats are looking for a place to settle with their families—and the US is a popular choice.
As an international financial center, London is another hub for EB-5. If you are looking for investors from the any of the EMEA countries (Europe, the Middle East and Africa), London is a good place to start.
Moscow is a hub for Central Asia. Rebecca and Mona recommend taking a Russian speaker with you when recruiting investors in Moscow.
Singapore is yet another hub for EB-5, serving the South Asia, East Asia and Australia/New Zealand markets. A diverse population of expats live in Singapore.
There is no official hub in Latin America. If you are looking for investors there, your best bet is to try the major cities. Rebecca suggests bringing a Spanish/Portuguese speaker with you to make investors feel more comfortable.