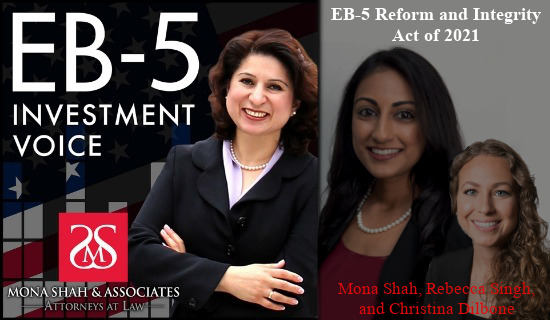 EB-5 Reform and Integrity Act of 2021 – Episode 137
In March (2021), Senators Grassley (R-IA) and Leahy (D-VT) introduced the highly anticipated "EB-5 Reform and Integrity Act of 2021", which both reauthorizes the EB-5 Regional Center Program for an additional five years and assures much-needed reforms to the EB-5 Program. On this episode of EB-5 Investment Voice, Mona Shah is joined by Rebecca Singh and Christina Dilbone of Mona Shah and Associates Global to discuss the Bill's provisions and who the winners and losers may be if the Bill is ultimately passed. Listen in to hear more about how the bill will affect the EB-5 Program and what reforms may affect you.
Read more about the Bill and its implications in our recent article, Senators Grassley And Leahy's EB-5 Reform Bill Calms An Uneasy Industry.