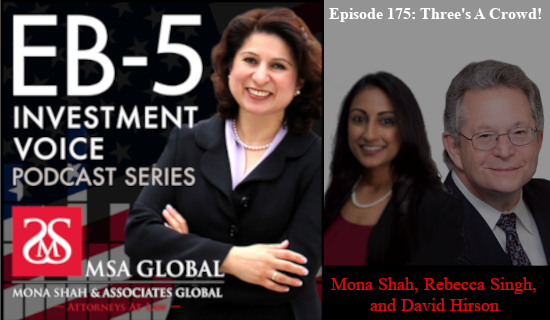 Episode 175: Three's a Crowd!
The Reform and Integrity Act ("RIA") prohibits any person who is not a US national from owning or being otherwise involved with a regional center. Mona and Rebecca speak to attorney David Hirson about the complexities of this rule, which is just one of the many ways the RIA has changed the landscape of EB-5.
David: With the citizenship by investment closing down in several countries, these agents don't have that same series of options that they had previously, and they may start focusing back on the US.
---
David Hirson has nearly 40 years of experience in the practice of immigration law. His focus is on EB-5 investment immigration law. He has been certified as a Specialist in Immigration and Nationality Law by the State Bar of California, Board of Legal Specialization continuously since 1990. In November 2022, he and Mona Shah announced the launch of Gravitas, a joint venture that will employ the skill sets of both attorneys to assist clients in navigating the increasingly complex world of EB-5.