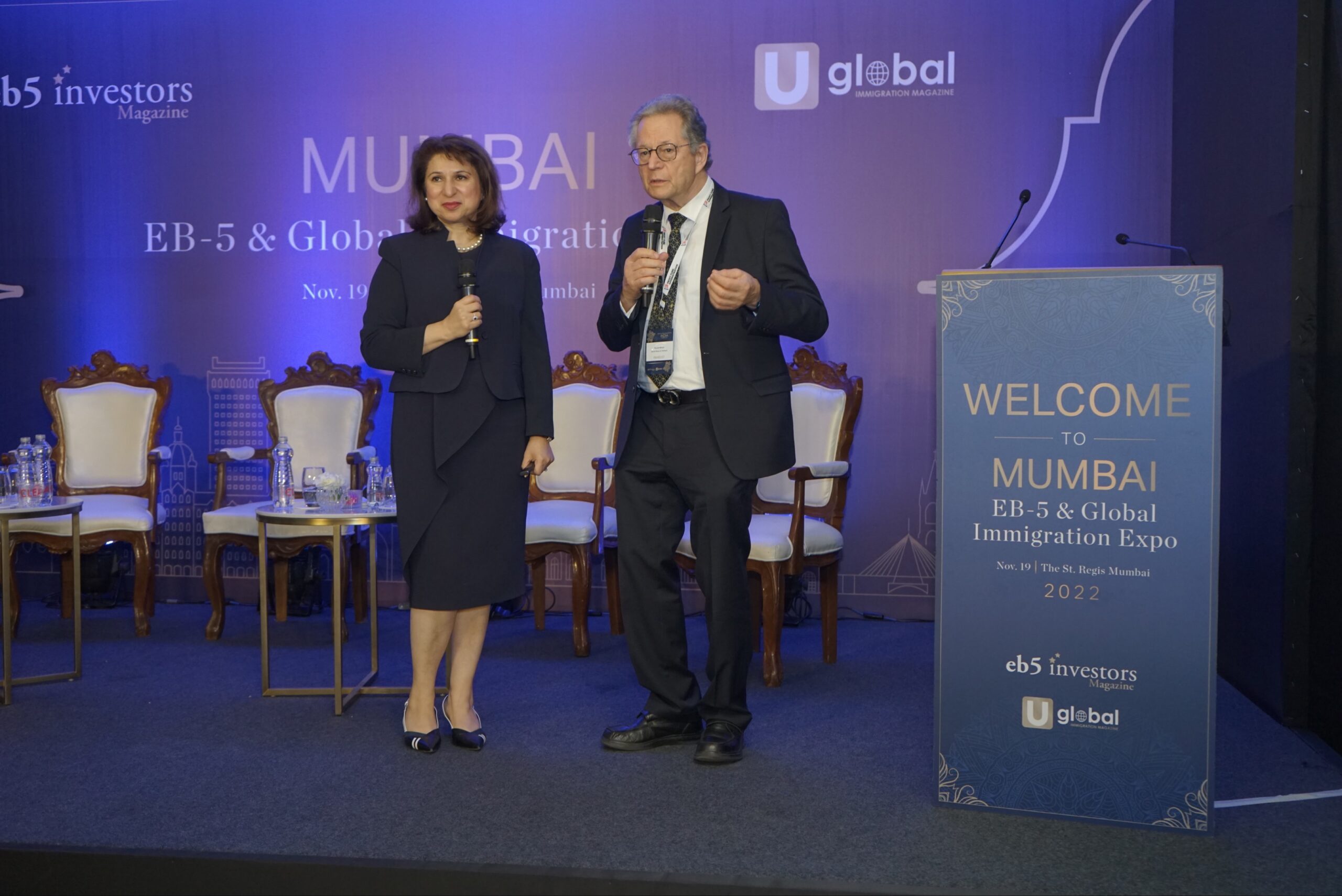 Is Mumbai Tired of Hearing About EB-5 Investments?
By: Simon Butler and Aaron Muller
Rumor says yes, but EB-5 immigration-law experts David Hirson and Mona Shah, in town to officially launch their new venture, Gravitas Strategies & Compliance, at the November 19 EB-5 Investors Magazine event, definitely did not see a diminishing interest in the program!
Mumbai November 19, 2022
Is Mumbai really tired of hearing about EB-5? Apparently not, as evidenced by the 1,000-plus people attending EB5 Investors Magazine's EB-5 & Global Immigration Expo India, held on November 19 at the city's luxurious St Regis Hotel. Speakers at the one-day event, the first major EB-5 investor event in India by the popular investment magazine since COVID restrictions were lifted, included two familiar faces with substantial EB-5 immigration-law expertise: Mona Shah, Esq., managing partner at Mona Shah & Associates Global; and David Hirson, Esq., partner, chairman and founder of David Hirson & Partners, LLP.
Among the topics discussed at this event was the rapid increase of Indian nationals electing to pursue immigration to the United States via the EB-5 Immigrant Investor Program. Some recent history: In the past decade, the Chinese received the vast majority of EB-5 visas. In 2017, however, came the reality of visa retrogression for Chinese mainland-born applicants. Subsequently, India soon became the focus of U.S. developers, regional centers, and businesses that have flocked to India's major cities and financial hubs in the hope of uncovering the next untapped EB-5 supermarket. Exuding Bollywood glamor, Mumbai has long been a popular destination for migration agencies and event managers. Still, it was rumored that events were poorly attended; Mumbai'ites are allegedly at a saturation point when it comes to the EB-5 Investment Program and are tired of hearing about it.
Indian Migration to the U.S.
In 2013, India and China supplanted Mexico as the top sources of new immigrants to the United States. With 2.4 million Indian immigrants having become U.S. residents[1], the foreign-born from India now account for approximately 6% of the 43.3 million foreign-born population in America, making them second only to Mexico. Most Indian immigrants are young and highly educated, and therefore are more likely to be employed in management positions. This means they have substantial household incomes and strong English skills. Many are employed in science, technology, engineering, and math (STEM) fields, as well as in medicine.
Though Indian nationals receive more H-1B visas than any other group, many wealthy Indians are eschewing the inevitable long backlogs associated with this traditional immigration path's sponsorship process for skilled and unskilled workers (EB2 and EB3) – instead opting for the EB-5 route. It is estimated that India will become the second-largest recipient of the EB-5 program, with as many as 1,100 visas issued in 2019. According to former U.S. Congressman Aaron Schock: "The visas issued to Indians are already in excess of 700, and this is likely to be about 1,100 by next year. Looking at the growth rate, the issuance should reach 1,500 by 2020 and 2,000 by 2021."[2] The COVID-19 pandemic, however, has skewed these numbers.
Prospects Abound
After observing all of the changes in this market over the past few years, the average EB-5 candidate likely has a more sophisticated and broader understanding of the program. Without a doubt, India is at the forefront of entrepreneurship. Indian nationals are extremely talented—having risen to the top of their fields and having been founders of several major U.S. stock exchange-listed technology companies. The new changes wrought by the EB-5 Reform and Integrity Act of 2022 appear to encourage rather than deter Indian investors.
As developers hunting for untapped markets traverse the Indian subcontinent, it is unlikely that marketing events will stop coming to major metropolitan cities such as Mumbai. That is simply because, as David Hirson puts it, "the wealth is here … we see sophisticated investors [who are] discerning in their selection of projects, notwithstanding the very low return on investments. The two prizes are obtaining Permanent Residence and a likely return of their initial capital."
The Official Launch of GRAVITAS
Mumbai also saw the official launch of Gravitas Strategies and Compliance, LLC ("Gravitas"), a joint venture between Hirson and Shah, who launched the initiative at the event. Serving as both a response to the changes and developments enacted by the recent passage of the Reform and Integrity Act of 2022, as well as to more efficiently represent domestic projects and regional centers with the underlying philosophy of protecting EB-5 investors. Gravitas offers a unique and refined skillset from two of the top firms in investment business immigration. The concept was well received at the event. "I am an Indian lawyer with clients who want to develop EB5 projects in the US. Gravitas is such an excellent resource for me. I feel confident as I am being advised by two distinguished veterans of the EB-5 industry" said Advocate Gaurav Tripathi. Indian developers also echoed this sentiment, with Rohit Sharma saying, "I am an Indian developer and I want to do EB-5. Now, with Gravitas, I can focus on developing my project with my family. I do not need to worry about all of the new regional center rules." Satish Iyer also agreed, "Gravitas is such a great idea. I am assured as I am being advised by two distinguished veterans of the industry."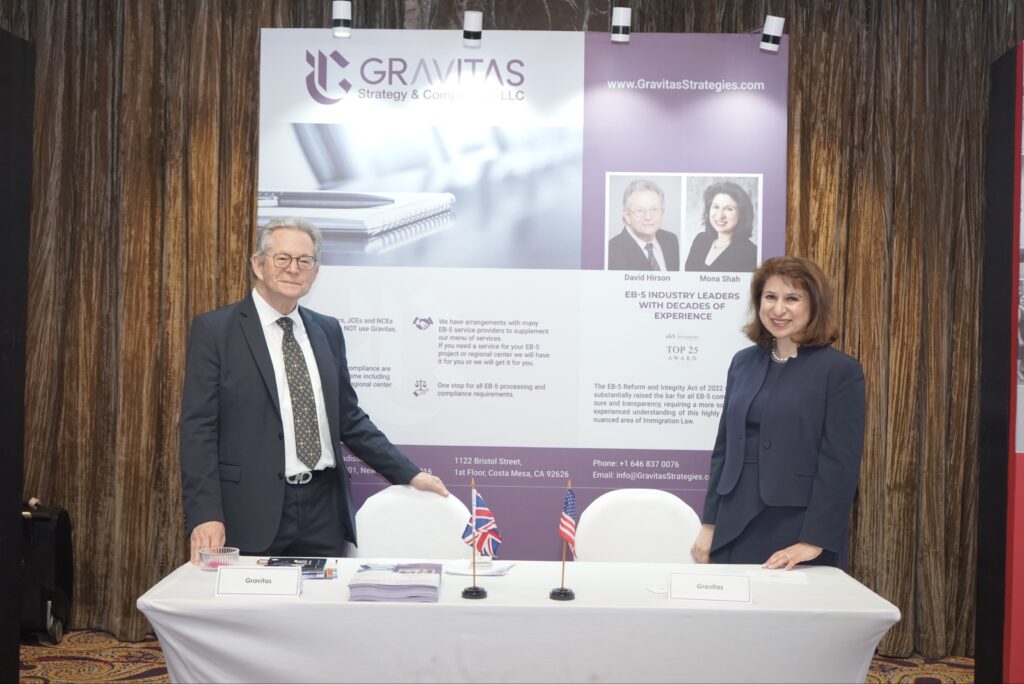 [1] 2015 U.S. Census Bureau data 2010 and 2015 American Community Services (ACS)
[2] Schock was also the Chief Sponsor of the 2012 EB-5 Reauthorization Bills