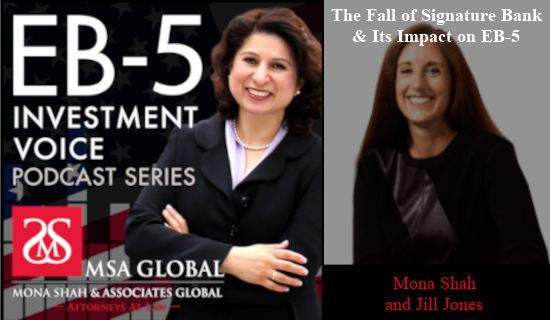 The Fall of Signature Bank and Its Impact on EB-5
Mona Shah and Jill Jones delve into a thorough discussion of how the closure of Signature Bank will affect the world of EB-5.
Jill Jones: I think there's a lot of us that hope to see [Signature Bank will establish a new account elsewhere], and I do think it's a possibility. In the meantime, what I see is a shift, and it's a shift in priorities…after this past week, I'm seeing a shift in, okay, maybe earning money is less important than keeping the current principal safe. And so people are looking at options of what can we do to make sure that the investors full investment amount actually comes into the project and creates jobs so they can get their green cards.
---
About our guest: Having been directly involved in over 350 EB-5 projects and as a former member of the IIUSA Board of Directors, Jill Jones brings to JTC Americas extensive experience working with Regional Centers, developers, and securities law professionals. Jill is uniquely skilled at efficiently structuring subscription escrows for EB-5 development projects and is highly regarded throughout the EB-5 market sector. A licensed attorney in the state of Texas, Jill's background includes over 10 years of title, escrow, and 1031 exchange experience.