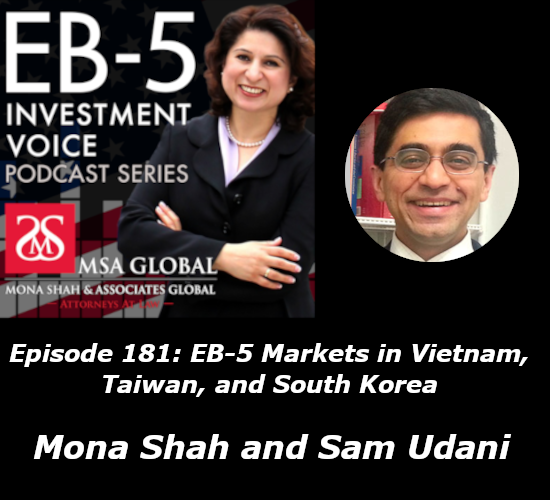 Episode 181: Investment Voice Travels! Update on Vietnam, Taiwan, and south Korea Markets
Pre-Covid, Southeast Asia has traditionally been a hotspot for attracting investors by developers and regional centers.
In today's episode, Mona Shah speaks with ILW CEO (and EB-5 Investment Voice veteran guest) Sam Udani, who is currently traveling Southeast Asia, speaking with migration agents and gaining a firsthand understanding of the current markets in Vietnam, Taiwan, and South Korea. With so much change at play in the EB-5 industry, our host and guest have much to explore about these countries, including the impact of other global programs, the RIA, and post-Covid-19.
Listeners will also gain a deeper understanding of the responsibilities of immigration agents as Mona and Sam discuss the cultural importance placed on "a strong central government, [and] a tremendous emphasis on family duties" in these countries, and how this means they are in a category of their own.
Some highlights from the episode:
Mona Shah: You have been Vietnam, Korea, Taiwan, these are all hot markets. Even before the changes in RIA.
Sam Udani: Well, yes. Historically, if you look back at each one of the last five years, Vietnam, Korea, and Taiwan have all been in the top five markets of the world.
---
Mona Shah: What about the fact that European programs like Portugal and Cyprus and Ireland are all closing down? Surely that's a factor to bring people towards America.
Sam Udani : Well, this is a good point. Every one of them brought up the fact that there were other more attractive programs. When I pressed them just a bit, just gently, they all admitted that America was almost always the number one choice for the families that they serve…Our brand is good. We do have competition, but so far, so good.
---
Our guest:
Sam Udani has been involved with the immigration community in the USA for most of his career spanning three decades, involving immigration politics and immigration policy and covering all manner of immigration into the USA, including refugees. He has been a tireless advocate for enlightened immigration laws for the USA since ACWIA, AC21/ACTA and continuing from then on. Mr. Udani currently serves as the Law Publisher and CEO of ILW.COM and Immigration Daily, a position he has held for over twenty years. As Publisher, he directs all activities of the website and newspaper with over 50,000+ pages of free information on immigration law that receives 250,000 visitors per month. Under Mr. Udani's direction ILW has conducted 600+ CLE seminars, published over two dozen immigration law books and conducted hundreds of immigration events in over a dozen countries. Earlier in his career, Mr. Udani founded an advertising agency and a small company in international trade.