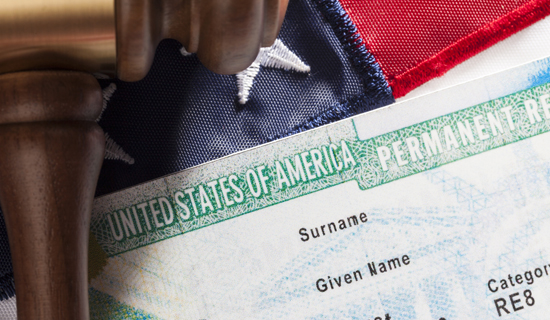 "Where is my Green Card?" The Second Stage of the EB-5 Process
by Rebecca S. Singh, Esq. and Brian Idehen, Esq.
Congratulations, your I-526 Petition has been approved! Now what? Many investors believe that once the I-526 petition is approved, the petitioner and dependents can automatically obtain the green card or the visa to enter the U.S. However, this is not the case. Approval is only stage one of a three stage process of becoming a Legal Permanent Resident ("LPR"), or Green Card holder in the U.S. The second stage is notifying the government of your approval, and intention to either change your status from a non-immigrant to an immigrant or enter the U.S. as an immigrant. This notification is done through what is known as Adjustment of Status ("AOS") or Consular Processing ("CP").[1]
Adjustment of Status vs. Consular Processing
AOS takes place when an investor is already in the U.S. on a non-immigrant visa and applies to have their status "adjusted" to an immigrant category. By contrast, if the investor and their dependents are located outside the U.S., the family must go through CP at the U.S. Embassy or Consulate located in or one designated to their home country. In some instances, an investor can choose another consulate located outside of their birth country if they maintain a connection to that country, such as maintaining residency.
Some further distinctions between AOS and CP are:
Processing Times – At times, the Consulates have seen faster processing times than an investor adjusting status in the U.S. This has especially been the case recently since on October 1, 2017, USCIS implemented a new policy requiring mandatory interviews for all employment-based green card applications, which includes the EB-5 program. Naturally, this may cause further delays in all adjudications as it increases USCIS' workload and will take time for the Service to adjust to the new requirement. While Consulates do not have this "new" criteria, there is also an interview process associated with CP. Interview dates are usually available within two weeks of receiving an approval, however it is important to note that processing times will vary between different Consulates.[2]
Costs – The cost of AOS applications are $1225 per applicant over 14. CP applications vary by consulate and every dependent, regardless of age, must pay for the application.
Forms – AOS is processed through Form I-485, submitted to USCIS. CP is completed through from DS-260 submitted to the appropriate consulate.
The AOS or CP process are typically straight forward and the easiest of the three stages to a Green Card, however receiving the I-526 approval does not guarantee your AOS or CP will also be approved. The EB-5 investor or any of the dependents may still be denied individually on the grounds of "inadmissibility", even after satisfying the I-526 criteria.
What is Inadmissibility?
An investor who is inadmissible is not permitted to enter or remain in the U.S. after inspection by an immigration or consular officer. Grounds for inadmissibility include: health-related considerations, unlawful presence, fraud or misrepresentation, criminal grounds, national security reasons, likelihood of becoming a public charge to the U.S. Government, or lack of labor certification. Even if admitted lawfully to the U.S. on a nonimmigrant visa, an investor could become inadmissible based on acts committed while in the U.S. and could be subject to removal. Waivers are available, but in limited circumstances.
Which Procedure is Right for Me?
If you are not in the U.S. at the time of your I-526 approval, and do not possess a valid non-immigrant visa, you must apply for CP. If you are in the U.S. holding certain valid non-immigrant visa, you are permitted to apply for either AOS or CP. However, in certain circumstances applying for AOS from the U.S. may prove problematic. For example, EB-5 investors in the U.S. on a B-1/B-2 visa will have issues as U.S. immigration law does not allow B-1/B-2 visa holders to possess intent to file applications for permanent residence. Instead, visitors are only allowed to stay for the period of time given at entry and then must depart the U.S. If an application for AOS is filed by an EB-5 investor who entered the U.S. after the approval of his or her I-526 petition as a visitor, there is a serious risk that USCIS may find that this individual intended to file this application at the time of entry as a visitor. USCIS may therefore find such an individual "inadmissible" into the U.S. (or in other words, find that he or she cannot become a permanent resident).
Discretion:
Other factors that may play into the decision to proceed with AOS or CP (for those investors who have the option), is the risk of refusal. CP, typically carries a lower risk of refusal. Unlike USCIS officers, consular officers cannot refuse to issue a visa based on discretion. This means that the consular officer must have specific, factual evidence for denying an application. However, cases that are denied are generally non-reviewable. This means that it is a final decision.
The primary reason people use the AOS process is that there is no need to return to their home country. AOS helps to avoid the travel expense and prolonged separation between family members in the U.S. Although the AOS process typically takes longer, it has other advantages. If an AOS case is denied, the applicant may challenge the denial through the administrative and/or judicial appellate processes.
Ultimately, an investor should have in-depth conversations with their immigration attorneys about whether they can or will be applying for AOS or CP. Any issues that may be cause for inadmissibility can typically be mitigated if identified, and addressed, early in the process.
Regardless of which process an investor goes through, both lead towards the third and final I-829 stage where the conditional status of the Green Card is removed, and the investor receives a permanent Green Card. After the I-829 stage, the path is clear to attain U.S. Citizenship.
[1] A review of the October 2015 Visa Bulletin shows that the "All other Countries" EB-5 immigrant visa categories remain current. In other words, citizens and nationals from countries other than Mainland China, may file their immigrant visa applications (I-526 petitions).
[2] Some CP applications are subject to "Administrative Processing" Review. This processing can range from 2 weeks to 6 months.
About the Authors:
Rebecca S. Singh, Esq. is an experienced attorney with Mona Shah & Associates.
As an advanced EB-5 practitioner, Rebecca works with project developers, analyzing, crafting and preparing project documents for initial regional center designation, as well as actual project or amendment filings. In addition, Rebecca handles direct EB-5 project petitions, both pooled investments and individual entrepreneurs, and I-829 petitions. Rebecca is well versed in USCIS compliance.
Rebecca is highly proficient at investor petitions, counseling clients through all stages of the EB-5 program. She has successfully filed complex source of funds issues from clients worldwide.
In addition, Rebecca handles the firms EOIR and Appellate issues, as well as employment visas such as H1-Bs, intracompany transferees (L visas), and treaty traders/investors (E visas).
.
Brian Idehen, Esq. is an attorney with Mona Shah & Associates.
Brian has experience in investor and corporate immigration law and assists MSA with various immigration and non-immigration matters such as EB-5, E-2, O-1, L, H and G (Diplomatic) visas, EB-1, PERM, securities law and corporate law matters. His experience includes advising high-net worth individuals and multinational corporate companies such as large financial institutions, fashion designers, advertising agencies, pharmaceutical companies, transportation companies, and law firms on corporate and immigration matters.