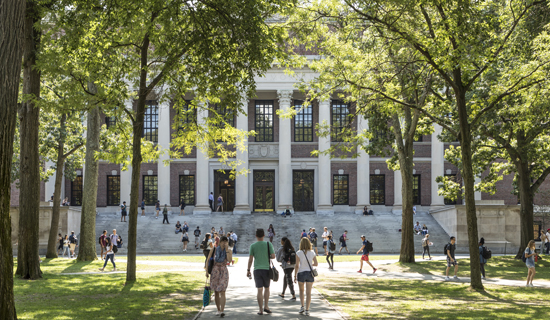 The Great Strengths of U.S. Education
by Rebecca S. Singh, Esq. and Sami Haidar
There is no denying that higher education in the United States is a major draw for immigration – both temporary and permanent. American universities command a high level of prestige abroad, with 62 American representatives in the Times Higher Education's Top 200 World University Rankings. Nearly a million international students attended American universities in the 2014-15 school year, a ten percent increase over the year prior. International interest in American higher education is also not limited to historically revered Ivy League schools: there has been growing interest in state universities like the University of Southern California and Ohio State University. New York University, a private university, leads the pack with an international student body of 13,178 students. As interest and international enrollment in American higher education grows, so too does competition for those coveted seats. There are a limited number of seats, and more importantly, a smaller pool of funds for scholarships and financial aid for international students. For this reason, a pathway to residency in the United States can prove to be highly beneficial for those seeking to acquire a post-secondary education for themselves or their children at a US university.
The system of education in the U.S. is unlike those in Europe or Asia or South America in one simple way: it is decentralized with no central Ministry of Education. This is the defining feature of U.S. higher education and why the U S. has the best universities in the world. The U.S. Department of Education is by far the smallest federal department and does not have the ability to run schools or universities, issue diplomas or mandate curricula. Thus, leaving each college or university greater autonomy.
This diversity, spread over 4,000 accredited colleges and universities, provides multiple learning and distinguishing options. The decentralized nature of U.S. higher education allows colleges and universities the flexibility to change and evolve with every new generation of students. This flexibility continues to put U.S. universities at the top of almost every international university ranking published. The reason is simple: U.S. universities can do what other universities cannot.
Given that the United States also holds the distinction for the most expensive tertiary education system in the world, financial aid and lower in-state tuition can make a world of difference in an era of ballooning education prices. Traditionally, US public universities have a two-tier tuition system: fees differ for in-state versus out-of-state residents. International students usually pay the exorbitant out-of-state tuition. For example, at a University of California school, in-state tuition for California residents for the 2017-2018 school year is $13,900. By comparison, the starting tuition for international students at UC schools is $40,644. However, some universities are charging a high third-tier tuition rate specifically for students being enrolled from abroad. In addition, according to University of California Admissions, over two-thirds of UC undergraduates receive some gift aid; for California residents, this figure is nearly half the cost of attending a University of California for a full year. Further, some universities charge additional fees to international students, asides from tuition. As described by university officials, the higher rates are necessary to pay for the additional services exclusively for international students, such as extra monitoring and reporting requirements to the US Federal Government, which can extend beyond graduation if the student opts for work placement through the Optional Practical Training (OPT) program. According to the Institute of International Education, international students contribute about $21 billion a year to the US national economy.
In addition, financial status can be a significant impediment for international students at the admissions stage. Approximately 100 US colleges have a need-blind admissions process – meaning that an applicant's financial status and ability to pay the stated tuition price is not factored when making an admissions decision. However, less than a quarter of these institutions are need-blind for international applicants. Elite universities like Brown University, Columbia University and the University of Pennsylvania, renowned for their large student endowments and their need-blind approach for domestic students, are need-aware for international applicants: meaning a student's ability to pay the full price of tuition over the entire course of the degree is considered before admission. Moreover, international students must also prove to the US consulate that the student will have sufficient funds to meet all the student's needs while studying in the US to obtain a student visa. The funds must be sourced and guaranteed that the student will receive the funds while at university. The visa can be denied for lack of evidence and financial support. Simply being accepted by a university and proving financial status alone are not sufficient to guarantee approval of a student visa.
Furthermore, international students are at a disadvantage for in-school and post-graduate employment. Paid internships and full-time positions are typically only available to US residents, and in today's environment of delayed processing and more restrictive criteria for foreign workers, there are fewer employers willing to foot the cost of sponsoring nonpermanent residents for employment. The H1-B process has now become a lottery system, with over 270,000 applicants vying for 85,000 (regular and Master's exemption) available visas. With today's administration, the US Government has tightened the H1-B process, criticizing abusers of the program, and the backlog under the EB-2 and EB-3 categories for Mainland China and India continue to grow each year. Other business visas, such as the E-2 and L-1, only allow children as dependents until 21 years of age. Thereafter, dependent children must apply for their own visa. In today's job market, work experience is as important, if not more critical, for an individual's long-term career success as educational background. Particularly for graduate degrees, many programs now require practical training as part of the curriculum.
Hence, EB-5 has become one of the most popular and advantageous US immigrant visa program, especially for families looking to the US for their children's education. It is a direct route to a US green card, allowing applicants to apply without the worry of being sponsored by an employer or family member. As there are no backlogs (except for Mainland China), it is one of the fastest routes in obtaining US permanent residency.
.
About the Author:
Rebecca S. Singh, Esq. is an experienced attorney with Mona Shah & Associates.
As an advanced EB-5 practitioner, Rebecca works with project developers, analyzing, crafting and preparing project documents for initial regional center designation, as well as actual project or amendment filings. In addition, Rebecca handles direct EB-5 project petitions, both pooled investments and individual entrepreneurs, and I-829 petitions. Rebecca is well versed in USCIS compliance.
Rebecca is highly proficient at investor petitions, counseling clients through all stages of the EB-5 program. She has successfully filed complex source of funds issues from clients worldwide.
In addition, Rebecca handles the firms EOIR and Appellate issues, as well as employment visas such as H1-Bs, intracompany transferees (L visas), and treaty traders/investors (E visas).