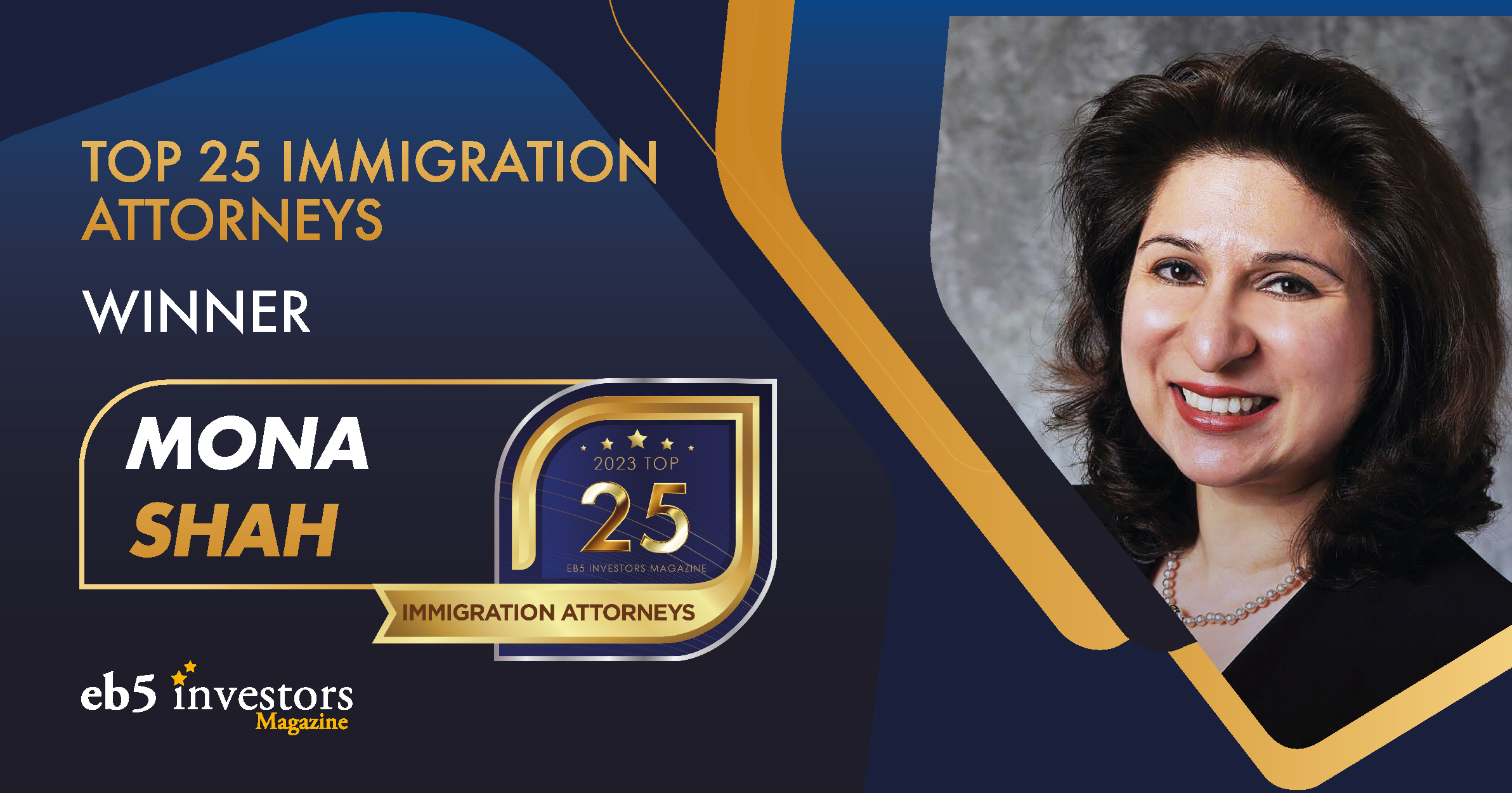 MSA Global's Mona Shah Wins 10th Straight EB5 Investors Magazine Award
By Simon Butler
In a feat of success that has few peers in the industry, Mona Shah—Managing Partner of Mona Shah & Associates Global ("MSA Global")—has been honored with EB5 Investors Magazine's prestigious Top 25 Immigration Attorneys Award for the 10th time in a row … an accomplishment reserved for the sector's best legal eagles.
Shah, an EB-5 expert and former Crown Prosecutor in the United Kingdom who started her New York-based law firm in 1997, was recognized by the publication for her exceptional skills and vast knowledge of the space—honed during a career that has seen her land EB5 Investors Magazine's Top 25 EB-5 Immigration Attorneys awards in nine other years, as well as honors such as being named to Uglobal's Top 25 Global Migration Attorneys. Her achievements also include serving as host of the popular EB-5 Investment Voice Podcast series for more than seven years and working as a part-time adjunct professor at Baruch College in New York. Additionally, Shah has been quoted in media outlets ranging from The New York Times to Bloomberg.
"I am positively chuffed at being honored with this award, which is a testament not only to the offering I bring to clients, but also to the dedication of the MSA Global team," said Shah. "Now I have a new goal: to win this award for the 11th straight year!"
Other 2023 honorees include David Hirson, Managing Partner of Costa Mesa, Calif.-based David Hirson & Partners, LLP ("David Hirson & Partners") and Co-Founder of New York- and California-based regional center Gravitas Strategies and Compliance, LLC, who received EB5 Investors Magazine's Top 5 Attorneys in Specialized Fields award for the second year and has also been a recipient of awards from the publication in each of the past nine years. An industry veteran with more than 40 years of experience in immigration law (particularly business and investment immigration), Hirson is one of the leading experts in his field, and has substantial credentials in advising individuals, startups, large corporations, and individual entrepreneurs with their investment and employment-immigration needs.
Braggadocio, however, is not in Hirson's repertoire. "The secret to such success is listening to your clients and delivering effective cost and quality work," said Hirson. "Without them, I wouldn't have achieved this honor. This is a mantra that informs the way our firm does business."
That statement is bolstered by the selection of two other David Hirson & Partners employees for recognition: Associate Attorney Claudia Rea Jimenez, who was honored with the Top 10 Rising Stars award; and Partner, Attorney David Van Vooren, who was again named one of the Top 25 EB-5 Immigration Attorneys. Both have significant expertise in immigration law and have a combined 20-plus years of experience under their belts.
EB5 Investors Magazine considers a variety of factors for its Top 25 EB-5 Immigration Attorney honors, including the lawyers' specialties and accessibility. "To be eligible," states the article announcing the winners, "distinguished immigration attorneys needed to primarily file investor petitions and be available to the public." The publication is headquartered in Irvine, California.