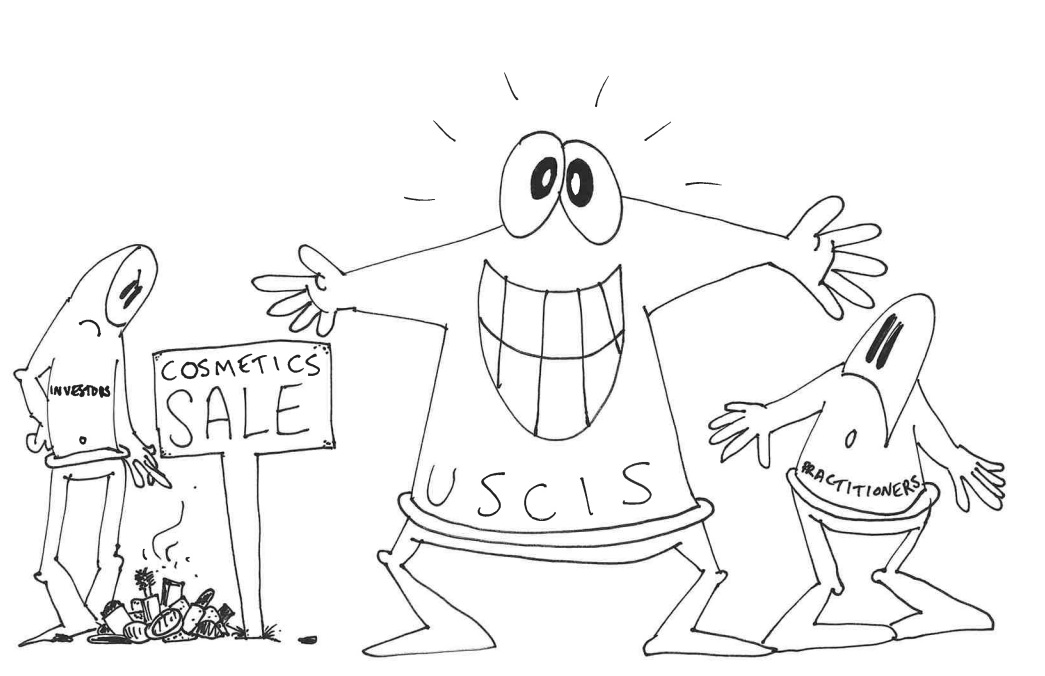 Vague Guidance, Cosmetic Solutions Mar USCIS's Tweaked Regional Center Sustainment Policy
By Simon Butler
Given the scarcity of clarification from U.S. Citizenship and Immigration Services ("USCIS") on its ambiguous mandates surrounding sustainment of EB-5 investments in regional centers, the agency's announcement today of guidance on this issue pricked up practitioners' ears in anticipation. Unfortunately, USCIS's explanations may well have muddied the waters further, though there are some positives that have risen from the muck—including the redeployment requirement, which looks to be nixed for post-EB-5 Reform and Integrity Act ("RIA") investors.
The guidance relates to the investment timeframes for EB-5 investors filing Form I-526, Immigrant Petition by Standalone Investor or Form I-526E, Immigrant Petition by Regional Center Investor on or after March 15, 2022 (per the RIA). In the agency's own words:
For investors seeking to remove conditions on their permanent resident status under INA 216A based on an EB-5 immigrant visa petition filed on or after enactment of the RIA (post-RIA investors), the RIA removed the requirement that the investor must sustain their investment throughout their conditional residence. The RIA also modified INA 203(b)(5)(A)(i) (the general requirement for classification to invest or be actively in the process of investing the requisite amount of capital in a new commercial enterprise) by adding new language that the investment required by INA 203(b)(5)(A)(i) must be expected to remain invested for at least two years.
Now for the (first) kicker:
Because of these changes made by the RIA, investors filing petitions for classification after enactment of the RIA no longer need to sustain their investment throughout their conditional residence, which may be many years in the future and dependent on factors outside the investor's control such as visa availability.
Note that this does not pertain to pre-RIA investors—only to post-RIA ones. So this guidance only clears up part of the problem. The second kicker from USCIS is as follows:
Instead, the INA now requires only that the investment must be expected to remain invested for at least two years, provided job creation requirements have been met. Although the statute does not explicitly specify when the two-year period under INA 203(b)(5)(A)(i) begins, we interpret the start date as the date the requisite amount of qualifying investment is made. In other words, we will use the date the investment was contributed to the new commercial enterprise and placed at risk in accordance with applicable requirements, including being made available to the job-creating entity. If invested more than two years before filing the I-526 or I-526E petition, the investment should generally still be maintained at the time the I-526 or I-526E is properly filed so we can appropriately evaluate eligibility.
At first glance, the implementation of a two-year investment-sustainment mandate as outlined above should be cause for celebration. Yet any excitement over this development should be tempered with a healthy dose of wariness, owing to the potential for bad actors to tout projects that misleadingly offer investors the possibility of returns in only two years, as opposed to the five that it usually takes for projects to become profitable. When one considers those conceivable repercussions, USCIS's guidance on this matter does not seem to be comprehensively thought out.
There is more, however, and the vagueness continues:
Before enactment of the RIA, the termination of a regional center would have been considered a material change to eligibility for investors who had not yet obtained conditional permanent resident status and, consequently, would likely have resulted in denial or revocation of associated investor petitions. The RIA added a new provision at INA 203(b)(5)(M) that permits good faith investors associated with terminated regional centers to retain eligibility in certain circumstances. Because the statute does not explicitly specify whether it applies only to post-RIA investors or also to pre-RIA investors, we are also providing guidance on how we interpret this new provision for pre-RIA investors upon regional center termination:

We interpret INA 203(b)(5)(M) to apply to pre-RIA investors associated with a terminated regional center. Rather than strictly applying certain timeframes under INA 203(b)(5)(M), we will extend the deadline for pre-RIA investors to respond to a regional center termination notification until the agency adjudicates their Form I-526 petition. If needed, we may issue a Request for Evidence or Notice of Intent to Deny for the investor to establish continued eligibility.
We may use the procedural flexibilities to extend the response deadline of 180 days for notices of continued eligibility.
When a regional center is terminated for purely administrative noncompliance, we may determine that the termination would generally not adversely affect a pre-RIA investor's basic eligibility because their investment and resulting job creation would remain undisturbed.
We may choose not to extend applicable response deadlines when a regional center is terminated for substantive reasons that may affect continued eligibility of their associated investors.
All of this suggests that USCIS still will use its own discretion—as opaque as it may be—to make such determinations. While the guidance on the terminated regional centers is welcome, especially when it comes to pre-RIA investors and the now-moot issue of redeployment, it does not shed enough light on the agency's criteria to make such judgments or what investors can do to avoid such complications in the first place. Indeed, USCIS's clarifications seem more like cosmetic approaches to assuage the EB-5 set without providing more than a temporary balm on this festering problem.
That likely will not satisfy investors or practitioners; instead, it will spur a host of additional questions about regional centers and the sustainment conundrum. Will USCIS pay attention?
Stay tuned for more analyses and opinions on this soon.