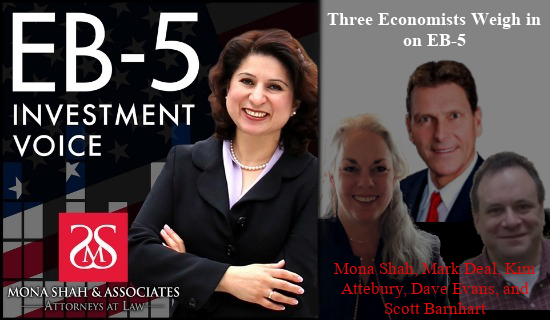 Three Economists Weigh in on EB-5 – Episode 123
In the EB-5 program, the creation of ten jobs is perhaps the most important step in ensuring an investor receives a green card for herself and her family. However, counting jobs is not always as simple as looking at a payroll report, and it takes a skilled economist to accurately count projected direct and indirect job creation in a regional center project. On this episode, Mona and Mark are joined by senior economists Kimberly Attebury (Vermillion Consulting), Scott W. Barnhart (Barnhart Economic Services) and David R. Evans (Evans, Carroll & Associates) who specialize in preparing EB-5 economic impact studies for EB-5 projects using a variety of job counting methodologies.  Listen in to hear how the Targeted Employment Area (TEA) methodology was changed by the new regulations (in effect as of November 21, 2019), which type of job counting methodology will produce the highest number of jobs and how the pandemic may affect TEA classifications in the future.
Kimberly Attebury is the President of Vermillion Consulting, a full-service firm that helps organizations in the public and private sectors leverage the benefits of EB-5. Vermillion provides expert advice on project feasibility, EB-5 compliant structure, job creation methodology and TEA analysis. Kimberly is uniquely qualified to offer guidance around the EB-5 program, having served as Chief Economist of USCIS from 2009 to 2011.
Scott W. Barnhart, Ph.D. is President of Barnhart Economic Services, LLC, a consulting firm specializing in EB-5 economic job creation studies, TEA (Targeted Employment Area) designations, and EB-5 business plan writing as well as litigation support services.  Dr. Barnhart received his Ph.D. in economics/ econometrics from Texas A&M University and is an Associate Professor of Finance and the Program Director of the Certified Financial Planner™ Program at Florida Atlantic University in Boca Raton, FL.
David R. Evans has worked on EB-5 economic impact studies at Evans, Carroll & Associates (ECA) since 2012, and has led the EB-5 economic impact practice since early 2016.  Prior to joining ECA, Mr. Evans served as the Chief Scoring Officer for Capital One Bank (1999-2011). He started his career in economic consulting (1989-99), most notably at PriceWaterhouseCoopers.  Mr. Evans received his degree in Economics from Brown University in 1989.
---