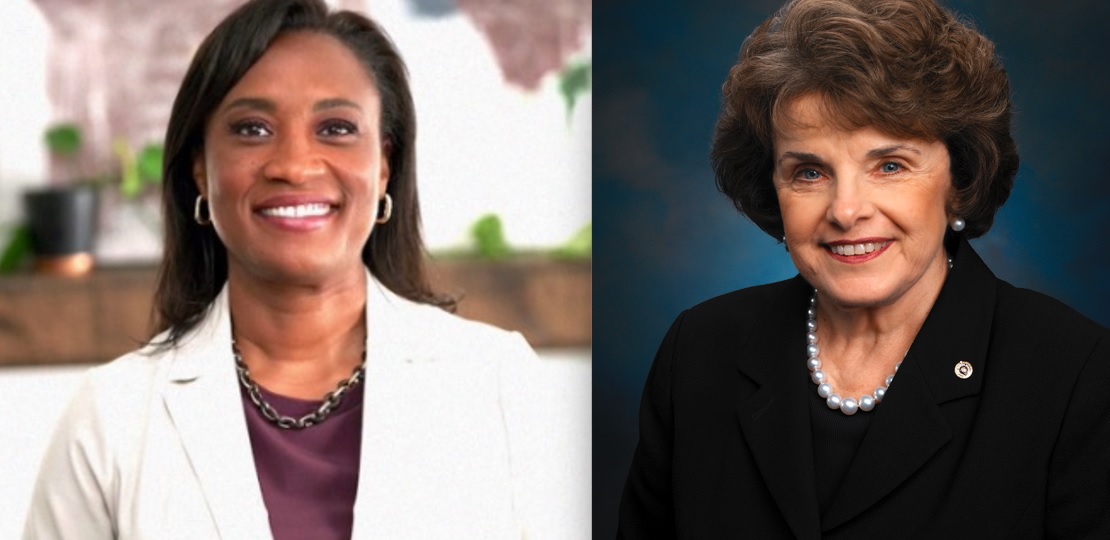 Stopgap Measures: Will Feinstein Replacement Laphonza Butler Echo CA Senator's EB-5 Criticism?
By Mona Shah, Esq. and Rebecca S. Singh, Esq.
Though lauded by many for her achievements on issues ranging from reproductive rights to gun control, the late Sen. Dianne Feinstein was no friend to EB-5—even going so far as to cosponsor a bill in 2017 to eliminate the program. While matching Feinstein's seminal tenure in the public service outside of the investment-migration sector is a tall order, Laphonza Butler, California Gov. Gavin Newsom's choice to serve as her replacement in Congress following Feinstein's death at the age of 90, has many qualities in common, including a strong commitment to activism. Yet one aspect of the new congresswoman's politics, her stance on EB-5, is unclear … leading practitioners to wonder how this scenario will play out, given her predecessor's fierce opposition to the initiative.
Butler's career might give an indication of her platform's direction. A progressive who formerly served as President of EMILYs List—a nonprofit organization whose mission, as expressed on its website, is to help "elect Democratic pro-choice women to office"—she reportedly worked as a senior strategist on Vice President Kamala Harris' 2020 presidential campaign. As such, California's first Black LGBTQ+ senator likely shares Harris' support of EB-5 and the changes to the program that were effected by the Reform and Integrity Act ("RIA") in March 2022.
Harris' position on immigration, which includes her reported concentration on finding solutions to the migrant crisis on the southern border, is informed by the precedents she has set in the past. Bills she co-sponsored as a California senator, such as the Fairness for High-Skilled Immigrants Act of 2019, point to her focus on this issue.
Feinstein, on the other hand, was a staunch EB-5 critic, campaigning for the program's termination via the aforementioned legislation, which was co-sponsored by Iowa Republican Sen. Chuck Grassley (R-IA) in an effort to mitigate inefficiencies ranging from alleged misuse of the effort to concerns about parity. "The EB-5 program is inherently flawed," noted Feinstein in a statement at the time that appears on Grassley's website. "It says that U.S. citizenship is for sale. It is wrong to have a special pathway to citizenship for the wealthy while millions wait in line for visas. I agree that the time has come to end EB-5."
While Butler probably will sway more toward the Biden Administration's sanguine perception of the program—Biden, of course, signed the RIA into existence—it remains to be seen how much she will adhere to the party line. It is debatable whether it really matters, as EB-5 is known to be the one area of U.S. immigration that remains bipartisan. Plus, there are other developments on the horizon … notably the November 2024 election to replace Feinstein after Butler's temporary assignment is up in January 2025, as well as the March 5 California primary, whose candidate filing deadline is December 8. Among the contenders vying for the role are California Democratic Reps. Barbara Lee, Adam Schiff, and Katie Porter; Porter also was a co-sponsor of the RIA.
None of the aforementioned congresspeople is expected to go against the Biden Administration's stance with regard to EB-5 policy, though it is possible (however unlikely) that a Republican with divergent opinions on immigration could be voted into the office. Nevertheless, the jury is out so far on where the seat is headed next year, which makes predicting whether EB-5 has a new ally a challenge. For sure, Feinstein's dedication to justice and righteousness, coupled with her powerful presence and history of legislative success, will be tough to replicate.
Her criticism of EB-5, on the other hand, is not—a fact that practitioners should not forget. With legislator friends of the industry being precious hard to come by, cultivation of congressional allyship is essential. In light of that, the EB-5 set should ready itself for communication on this front with Butler and the senator who will take her place.
Such a strategy may not be the usual tactic employed to address stopgaps of this sort. But these are generally just temporary measures to stem the tide of potential crises. In this case, ongoing engagement on EB-5 with Feinstein's successors is a must.
Because stopgaps can help shape policy in the space, too. And, as the California senatorial race has proven, a stopgap is not necessarily an easy thing to replace.
Simon Butler contributed to this article.