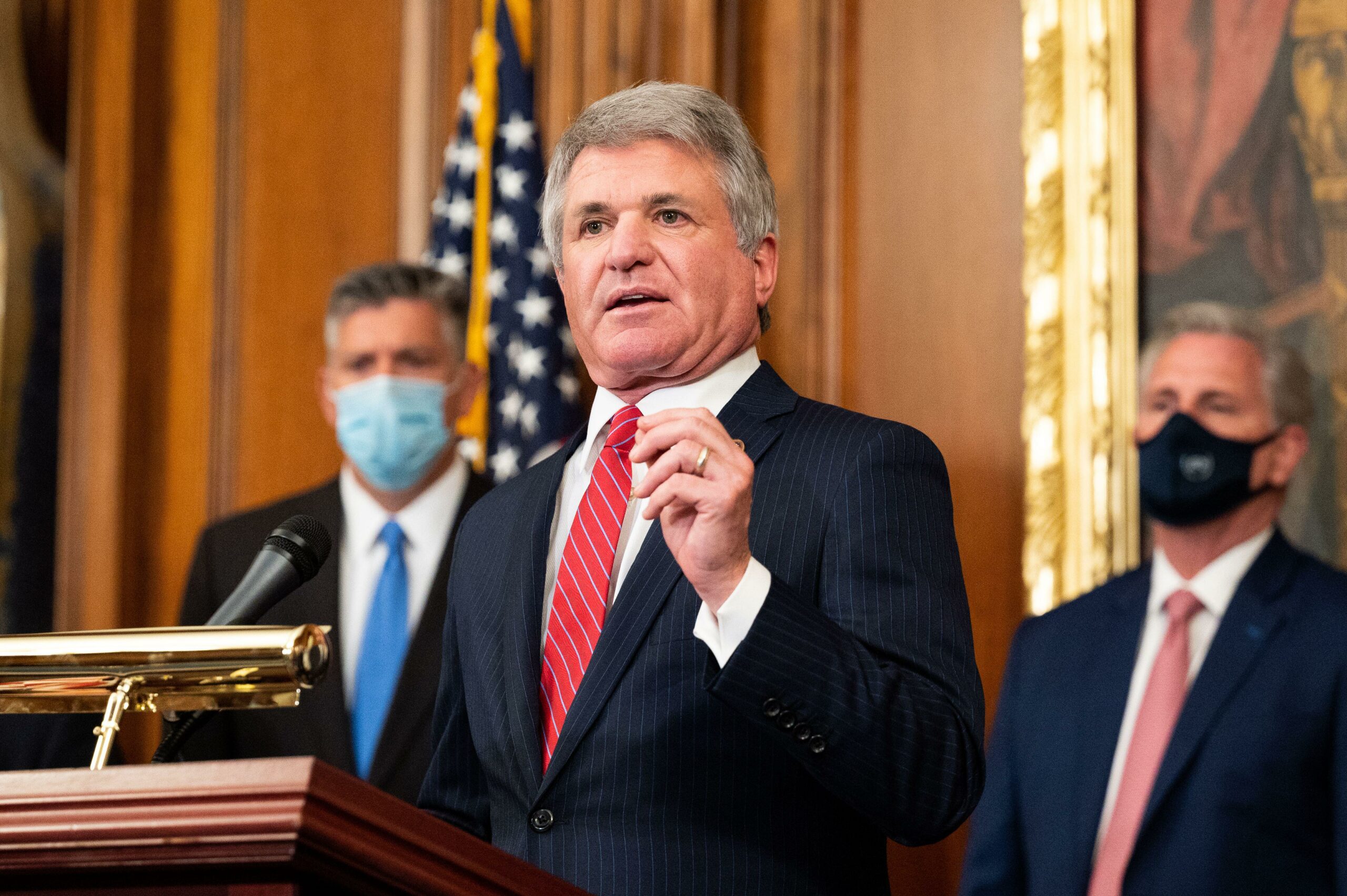 Congressman McCaul Joins Growing Support for EB-5 Reauthorization Bill
BY: Mona Shah & Sarah Salarano
"The EB-5 Reform and Integrity Act is a bipartisan piece of legislation that will finally make vital security enhancements to the EB-5 visa program. By ensuring integrity and eliminating opportunities for fraud, this bill will enable the EB-5 program to continue to stimulate our local economies. I am proud to support this piece of legislation and encouraged by growing support for its passage." Representative Michael McCaul (R-TX).
The EB-5 Reform and Integrity Act of 2021 (S.831), introduced by Senators Chuck Grassley (R-IA) and Patrick Leahy (D-VT), is a bipartisan bill that protects investors, assures the program's integrity and secures its longevity. Representative Stanton (D-AZ) and Representative Fitzpatrick (R-PA) introduced an identical companion bill in the House of Representatives, HR 2901, shortly thereafter.
Both Senate and House bills include significant integrity reforms to protect against fraud and national security weaknesses within the EB-5 program. Most importantly, the bill reauthorizes the EB-5 Regional Center Program for another five years, through 2026, which at this juncture is critical.
"It's no secret that the EB-5 Regional Center Program has been a mess for years. … The Obama and Trump administrations took important steps to restore incentives for investment in rural and truly underserved areas, but Congress must act to fix other flaws that invite fraud and abuse. Our bill corrects the many defects in the current program and improves accountability so that it functions as Congress intended." – Senator Chuck Grassley, 2021.
Congressman McCaul, U.S. Representative for Texas's 10th congressional district since 2005 and known for reaching across the aisle, adds his voice to a growing number of co-sponsors of H.R. 2909. Both bills have received bipartisan support, with H.R. 2901 boasting 14 co-sponsors from Congressmen across the country, including:
Michael McCaul (R-TX)
Fred Keller (R-PA)
Guy Reschenthaler (R-PA)
Katie Porter (D-CA)
Brian Higgins (D-NY)
Tom O'Halleran (D-AZ)
Mariannette Miller-Meeks (R-IA)
Chris Jacobs (R-NY)
John Katko (R-NY)
Mike Doyle (D-PA)
Lance Gooden (R-TX)
Dwight Evans (D-PA)
By co-sponsoring this bill, each Representative is solidifying their commitment to long-term EB-5 reauthorization. With a total of 14 co-sponsors, H.R. 2901 is proving to be a sought-after bill from both parties and various states across the country – serving as a testament to how beneficial and critical EB-5 reauthorization is in the U.S.
For a more in-depth look at the legislation, please read our previous blog posts on S. 831 and H.R. 2901.
Below is a timeline of recent EB-5 reauthorization legislation: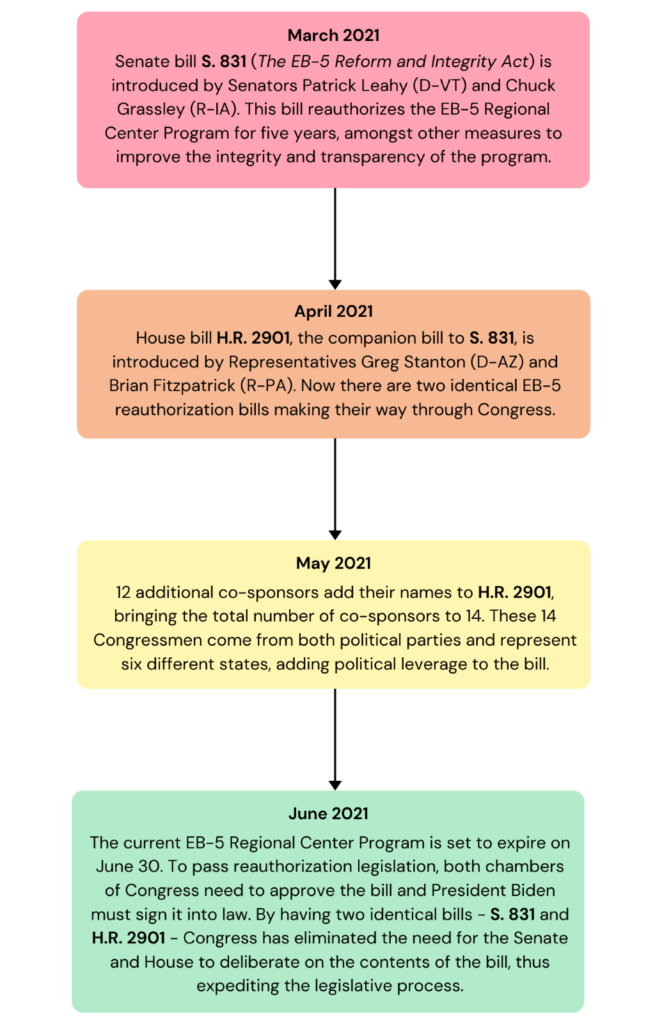 ---
About the Authors:
Mona Shah, Esq. U.K. born and a former British Crown Prosecutor, Mona has over 28 years of legal experience with extensive knowledge of all facets of U.S. immigration law. Recognized as one of the industry leaders in EB-5, tackling complex issues, Mona has received many accolades for her work, including being voted a top 25 EB-5 attorney in the U.S. seven years in a row; top Global Migration Lawyer (U-Global), Top lawyer by Who's Who International; and Top attorney of North America. A part-time adjunct professor at Baruch College, Mona is also a published author, and Lexis Nexis Practice Editor. Mona regularly speaks worldwide and has been interviewed by mainstream news channels, including Fox Business News and Al Jazeera, and quoted in major newspapers, including the New York Times, Bloomberg and Axios. Mona hosts and produces Global Investment Voice Podcast series (145+ episodes). MSA have worked with the top echelon within the industry and have been instrumental in the success of numerous projects. Marketing overseas for many years, MSA have successfully raised millions of dollars in investor capital.
Sarah Salarano is a paralegal at Mona Shah & Associates Global. She graduated in December 2020 from Emory University with a degree in Political Science and English.