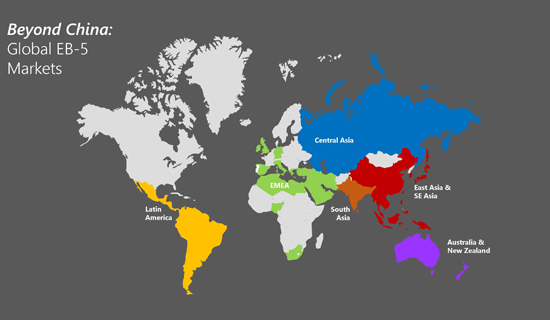 EB-5 Visa Backlog, Cross-Chargeability and the Global Market
EB-5 Investment Voice
Mona Shah & Associates Global Podcast Series
Reported by Hermione Krumm, Esq.
EB-5 Investment Voice is the only Podcast series that focuses on the United States immigrant investor visa, EB-5 and foreign direct investment. Mona Shah, Esq. welcomes guests from the industry, including: Developers, Regional Center Operatives, Attorneys, Legislators and Politicians.
When talking about EB-5, people used to only concentrate on China. However, the severe visa backlogs in China (and now Vietnam has been added to the list) have shifted developers' focal point to India and other emerging markets, making EB-5 more and more towards a global market. It naturally begs the question: where are the most promising hubs for EB-5? For investors coming from current backlogged countries like China and Vietnam and countries facing forthcoming backlogs like India, Brazil, Taiwan and South Korea, what can they do to mitigate the long wait? To address the aforementioned questions, in this EB-5 Investment Voice episode, Mona and Rebecca S. Singh, Esq. explain the distinction between the terms "retrogression" and "backlog", discuss when and how to apply cross-chargeability, and share ideas on the best places for developers to connect with investors in the global EB-5 market and different marketing strategies to target investors from the respective regions.
Retrogression vs. Backlog
In the aftermath of Charlie Oppenheim's recent keynote at the IIUSA's EB-5 Advocacy Conference in D.C. in April, 2018 (Mona and Rebecca published an article on this with ILW Immigration Daily), many questions have surfaced around retrogression, backlog and cross-chargeability.
At present, China and Vietnam are the only two countries in backlog. EB-5 applicants in those two countries with a priority date of August 1, 2014 are eligible to file for a green card in June 2018. Chinese and Vietnamese applicants DO NOT have to wait to file their I-526 petition but should do so as soon as possible to secure an early priority date.
A distinction should be made between "retrogression" and "backlog". Retrogression occurs when the Final Action Date ("FAD", or the end of a current visa status for a country) is moving backward in time rather than forward. Though both are moving very slowly, China and Vietnam are NOT in retrogression.
It is predicted that India will face backlog by June 2019. Be aware that the backlog date may not be June, but could be a few months earlier. Taking China as an example, its backlog was announced in May 2015, but the FAD was pushed back to May 2014.
We are also looking at backlogs for Brazil, South Korea and Taiwan by the summer of 2019. These dates could change if, for example, advocates are able to get dependents taken out of the quotas. As of now, however, dependents do count toward the visa numbers.
Cross-Chargeability
An investor's country of citizenship has no impact on their chargeability. Rather, it is the country of birth that of concern here for EB-5. For instance, if an investor was born in India but migrated to the U.K. as a child, he/she cannot use his/her UK citizenship to petition for EB-5.
The concept of cross-chargeability allows an investor to use their spouse's country of birth to apply for an EB-5 visa, if the spouse's country of birth would land the investor into a much preferred quota category. Such a beneficial regime only works for a spouse, however, as parents may not cross-charge to their child's country.
The provisions of cross-chargeability will be employed in the second phase of the EB-5 approval process, i.e. during Consular Processing or Adjustment of Status. However, it is highly recommended that an applicant should request affirmatively use of cross-chargeability when filing the initial petition, i.e. the EB-5 package should be forwarded to the adjudicating officer with a notation that indicates possible cross-chargeability.
EB-5 Investor Hubs
When thinking about the global EB-5 market, Mona and Rebecca compartmentalize the world in terms of regions, i.e. Latin America, Central Asia, Southeast Asia, East Asia, the EMEA countries (Europe, the Middle East and Africa), and Australia/New Zealand. Mona and Rebecca advise developers looking to find investors in the global EB-5 market to start with the hubs.
As an international financial center, London is an obvious hub for EB-5. Developers looking for investors from any of the EMEA countries (Europe, the Middle East and Africa) should look at London as a good place to start.
Another EB-5 hub is Dubai, where expats from all over the world live and work. As the UAE does not offer citizenship, there is no permanency. Ex-pats are obvious targets for citizenship by investment programs.—and the U.S. is often, and obviously, a popular choice.
For Central Asia, Moscow is the place to be. As Mona and Rebecca recommend, taking a Russian speaker when recruiting investors in Moscow is a huge plus.
Singapore is yet another hub for EB-5, serving the South Asia, East Asia and Australia/New Zealand markets. A diverse population of expats live in Singapore.
There is no official hub in Latin America. The best bet for developers targeting investors from this region is to try the major cities. Rebecca suggests bringing Spanish and Portuguese (Brazil) translators when marketing to make investors feel more comfortable.
Find Mona, Rebecca, and the author Hermione from Mona Shah & Associates Global at the Global Investment Immigration Summit in London, U.K. on June 21&22, 2018. We will be covering topics that include Citizenship by Investment including the Caribbean programs, European programs and the United States; E-2; EB-5 investment visas; blockchain technology; global taxation and other foreign direct investment opportunities.
Please see the link below for access to the podcast episode: https://mshahlaw.com/backlog-cross-chargeability-eb-5-global-market/.
About the Speakers:
Mona Shah, ESQ.
UK born, Mona, a dual licensed attorney, was formerly a Government Prosecutor with the British Crown Prosecution Service. Mona has extensive knowledge of all facets of U.S. immigration law; her expertise ranges from specialist business law to complicated, multi-issue federal deportation litigation before the US Courts of Appeal. Recognized as an industry leader in EB-5, Mona has received many accolades for her work, including voted top 25 EB-5 attorneys in the US 4 years in a row; Top Lawyer by Who's Who International, 'Top Attorney of North America'
Mona, an adjunct professor at Baruch College, CUNY University, has authored numerous articles, a published book for investors, co-edited EB-5 Gateway (BLS) and is a recommended author with Lexis Practice Advisor. Mona is regularly invited to speak worldwide, has been interviewed by mainstream news channels, including Fox Business News, Al Jazeera and quoted in major newspapers, including the New York Times.
Rebecca S. Singh, ESQ.
Rebecca is an experienced attorney with Mona Shah & Associates.
As an advanced EB-5 practitioner, Rebecca works with project developers, analyzing, crafting and preparing project documents for initial regional center designation, as well as actual project or amendment filings. In addition, Rebecca handles direct EB-5 project petitions, both pooled investments and individual entrepreneurs, and I-829 petitions. Rebecca is well versed in USCIS compliance.
Rebecca is highly proficient at investor petitions, counseling clients through all stages of the EB-5 program. She has successfully filed complex source of funds issues from clients worldwide.
About the Author:
Hermione Krumm, Esq. is an associate attorney with Mona Shah and Associates Global. Hermione works with EB-5, corporate, merger and acquisition (M&A), intellectual property and foreign direct investment (FDI) matters involving China, the UK and the US. Hermione writes and comments frequently on current business and immigration issues. Her articles have been published by LexisNexis, ILW, EB-5info, EB-5 Supermarket, etc. Hermione received her LL.B. (Hons) from the University of Manchester School of Law (UK), and obtained her LL.M. from Cornell Law School. Hermione speaks fluent English, Mandarin and Cantonese.