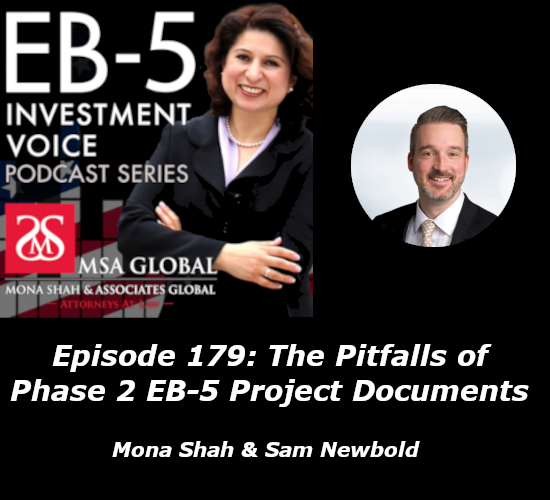 Episode 179: The Pitfalls of Phase 2 EB-5 Project Documents
This week, Mona had a discussion with CSG Law's Samuel Newbold about the complexities and strategies surrounding the documents required for EB-5 funding for a second or additional phase of an existing project. The experts offer some context of these new complications, and provide some advice for those who are dealing with phase-2 funding difficulties.
Mona: "It's created more demand for EB-5 because interest rates are high right now…but also bad because I think that for EB-5, the COVID related issues are something that we're still going to have to navigate for every business in terms of elongated construction, time frames, and supply chain issues moving forward."
Samuel: "I think that those provisions related to fund administration are prospective in nature, meaning that if a project is looking to raise capital under the new program, that's where the fund administration component is applicable. However, I think that if a project is going to engage a fund administrator for the new EB-5 money that they're going to raise, they might as well go back and consider doing either an audited Financial Statement of the prior expenditures for the project up to date, if they haven't already done so. Or consider working with the fund administrator to do a true up of the previous activity in the project to date as part of a continuation of the fund administration services, which is certainly possible to do with some of the platforms that are out there."
---
Samuel Newbold is the chair of immigration law at Chiesa, Shahinian, & Giantomasi, PC. He represents companies from all over the country as well as multinational organizations spanning the globe, providing counsel on employment-based immigration matters as well as corporate compliance best practices. Sam manages the firm's EB-5 practice and has successfully counseled hundreds of individual EB-5 investors and their families through the entire EB-5 process. He also proudly serves on the Board of Directors for the Safe Passage Project, a New York-based nonprofit that provides pro bono legal services to unaccompanied children in immigration proceedings.