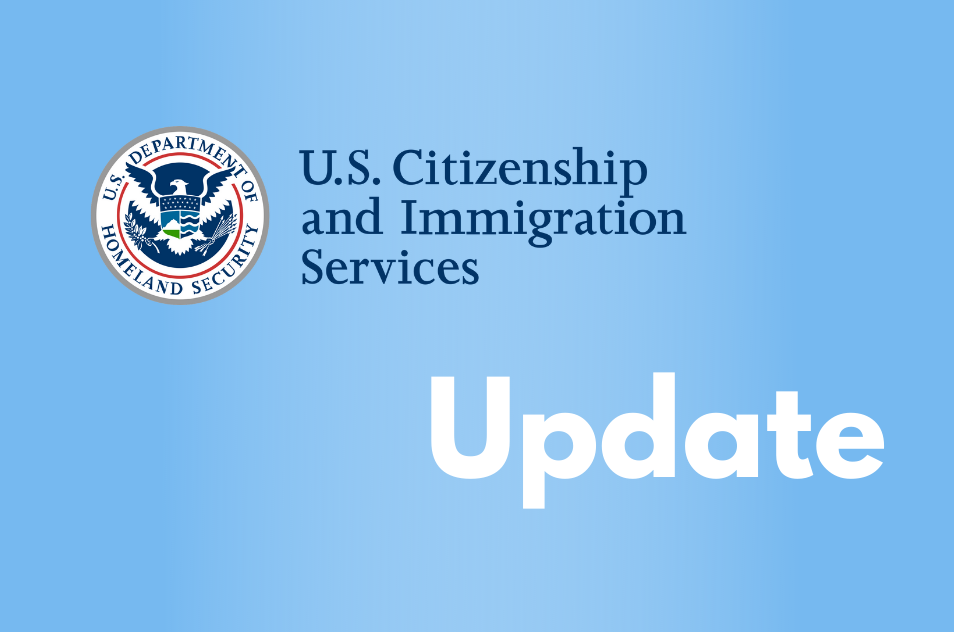 USCIS Drops A Bombshell Hours Before A Scheduled Listening Session
BY: Mona Shah & Sarah Salarano
Mere hours before USCIS's listening session on the EB-5 Reform and Integrity Act of 2022 ("RIA"), the agency updated their website to include a Questions and Answers section regarding the new legislation, including the bombshell decision that all regional centers including previously designated Centers, will not be allowed to file any new petitions until recertification has been approved. Such a decision could take months if not years, severely handicapping the Industry's ability to function.
Below are some updates of note:
All Regional Centers, including previously designated Centers, must seek recertification by filing Form I-956 (effectively replacing Forms I-924 and I-924A). More information on the filing process will not be available until May 14, 2022.
I-526 Regional Center petitions will not be accepted until the Regional Center's Form I-956 has been approved.
USCIS has resumed processing I-526 and I-485 Regional Center petitions submitted before the program lapsed on June 30, 2021. These petitions will be grandfathered under the standing legislation at the time of filing.
Direct pooled projects are no longer accepted. USCIS will adjudicate any direct pooled petitions filed before March 15, 2022.
Ever since RIA was passed over a month ago, USCIS has offered little clarity as to how the new regulations and integrity measures would manifest themselves in tangible petitions. Without much direction, the EB-5 community has been anxiously awaiting more guidance from USCIS. In a series of questions and answers, USCIS has offered little pockets of information, yet much about the future of the program continues to remain up in the air.
During their hour-and-a-half long listening session today, various agents from USCIS spoke about the agency's mission to adjudicate more petitions and reduce backlogs yet failed to provide any detailed action steps other than hiring more employees.
Although not surprising, given the nationwide labor shortages in critical industries, including law and government, Ms. Jaddou, the newly appointed Director of USCIS declared that USCIS suffered from a shortage of 4000 recently vacated positions. The irony is that thousands of immigrants, able to fill in the vacancies, are waiting for work permits. USCIS is now taking about eight months to a year to issue work permits at the National Benefits Center, its main processing center. Federal law directs that the agency should take no longer than 180 days to process those applications.
Approximately an hour of the listening session featured various EB-5 stakeholders stating their concerns about the future of the program and asking for more clarification on a variety of issues, yet USCIS were not answering questions and will only take these comments into account however they may choose. A universal concern is that the EB-5 Industry would profoundly suffer, should USCIS take an extended period to approve re-certifications of regional centers. For this reason, lawsuits have begun springing up[1].
An opinion as to the purpose of the listening session was voiced by the Editor of ILW, as follows:
"The crucial thing to understand is WHY is USCIS holding a "listening session" in the first place. If they truly wanted to listen, USCIS would have held the "listening session" at the beginning of the 60 days they were given to get the RC program restarted, rather than towards the end of the 60-day period as they are doing now. So, they must have another purpose than listening in holding this "listening session", and indeed there is. The Administrative Procedure Act (APA) requires that an agency implementing legislation solicit input from stakeholders. The most likely explanation for holding the "listening session" now is that the agency has already arrived at its position on the new law and is hoping that the EB5 industry makes some awkward statements at the listening session (such as praising USCIS, for example). Selected portions from what is said by stakeholders can be used to support whatever position USCIS has already come up with, whether announced or not. The agency can use carefully chosen fragments from the listening session to claim that stakeholders support the agency's position–whatever it may be. When viewed in light of USCIS wanting to APA-proof its position, the "listening session" makes perfect sense. In other words, USCIS is actually deaf, but just pretends to listen."[2]
A level of optimism remains with the fact that USCIS does heavily rely on the income generated by EB-5. Thus, a speedy adjudication for regional centers in good standing may be expected. Nonetheless, it will take the Industry time to settle and come to terms with the new legislation– through the inevitable and possibly controversial rule-making process. After a tumultuous year for the EB-5 community, it looks like we will continue to play the waiting game as we seek more guidance from USCIS.
---
[1] The Behring Regional Center filed a lawsuit in the Northern District Court of California over the U.S. Citizenship and Immigration Services' redesignation guidance for EB-5 Regional Centers. The lawsuit says the agency's guidance violates the Administrative Procedure Act and misinterprets the new EB-5 law enacted by Congress.
.
[2] Immigration Daily Fri 4/29/2022 2:31 PM