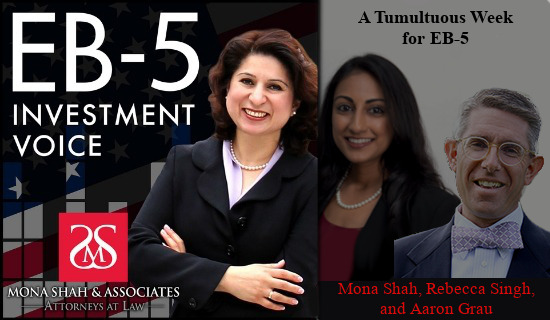 A Tumultuous Week for EB-5 – Episode 141
Legislative debates, sunset dates, and new court rulings have made this a tumultuous week for the EB-5 community. With a new minimum investment amount of $500,000 and a fast-approaching expiry date for the Regional Center Program, questions and chaos are bound to arise. In this episode, Mona Shah is joined by attorney Rebecca Singh of Mona Shah & Associates Global and IIUSA Director Aaron Grau to discuss the Senate vote on the EB-5 Reform and Integrity Act, what a lapse in the program means, and who will be affected once the Program expires next week. Mona and Rebecca also recap the recent Behring Case ruling, which has currently reduced the minimum investment amount down to $500,000. Listen below to learn more about what all these changes mean for everyone.
Topics discussed in this episode include:
What has happened to the EB-5 Reform and Integrity Act?
Who will be affected by a lapse in the Program?
Investment options while the Program is lapsed
The Behring Case decision
Is it safe to invest at $500,000?
And more!