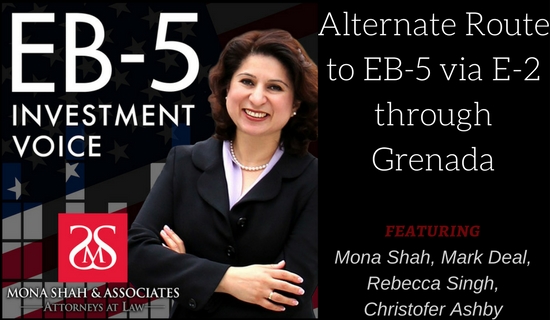 Alternate Route to EB-5 via E-2 through Grenada – Episode 50
An Alternate Route to EB-5 Via the E-2 with Grenadian Developer Dr. Christofer Ashby
With issues around retrogression in the EB-5 program, aspiring investors are looking for alternative strategies. Today Dr. Christofer Ashby joins Mark, Mona and Rebecca to discuss the E-2 program in Grenada as a stepping stone to the US EB-5. They cover the requirements of the Grenadian E-2 program, what to look for in a citizenship product, and the transition from E-2 to EB-5.
If you have aspirations of securing a visa through the EB-5 program, but backlogs and quotas have you playing the waiting game, there is an alternate route to citizenship. Grenada's E-2 visa treaty with the United States allows participants to obtain a passport by way of donation or investment on the island. From there, applicants can transition to EB-5.
Dr. Christofer Ashby is an ambassador for the government of Grenada, working with the Ministries of Finance and Foreign Affairs on matters of foreign direct investment. He holds multiple graduate degrees from the University of Southern California, including PhDs in both music and economics. Dr. Ashby has 30-plus years of experience in structured finance and business development, and he is currently developing luxury resorts on Grenada and Carriacou.
Today Dr. Ashby joins Mona, Mark and Rebecca in discussing the fundamentals of Grenada's E-2 program and how it might serve as a stepping stone to EB-5. He offers valuable advice around what to look for in a project on the island and why you should be wary of guaranteed returns. Listen in and learn the benefits of transitioning from E-2 to EB-5 and who might take advantage of this opportunity.
Grenada's E-2 Program
• Participants looking to earn a passport can choose between a donation of $200K or an investment of ~ $400K. Dr. Ashby explains that the real estate option has benefits for those who are using the E-2 as a stepping stone to the United States because it demonstrates a nexus to Grenada: The investment comes with a tax ID, physical address and permanent residence that you don't get with the donation.
• Chinese citizens can take advantage of the option to become citizens of Grenada via the E-2 program and then come to the US under the EB-5 umbrella—without ever traveling to Grenada. The entire process can be completed from China, as there is no permanent residency requirement.
• Grenada's E-2 process is a speedy one. It takes only three to four months to receive a passport, and as of December 18th, that Grenadian passport will allow you to travel visa-free to 121 countries including Russia and China. (Grenada is in the process of adding the UAE to that list as well.)
Finding the Right Project
• Investors looking for projects in Grenada should ask the following questions:
1. Does the developer have the domain-specific expertise to deliver?
2. What are the sources of financing for this project?
3. Will the project be completed in a timely fashion?
• There are 16 approved projects in Grenada at present, but Dr. Ashby predicts that only three or four will ever be built. Developers must have both deep pockets and a great deal of passion in order to bring a project to fruition.
• Be wary of citizenship products that offer guaranteed returns and/or guaranteed buybacks. Look closely at the quality of documentation on such assurances: The only way such guarantees are possible is when the amount in question controlled by a fiduciary in an escrow account.
• Whereas EB-5 investors are providing a loan, E-2 investors are making an equity contribution. This means that you have the potential to make income on your investment, perhaps earning more than you put in in some cases.
• Investors are required to hold their assets for three years from the time citizenship is granted, so if you are considering the possibility of engaging a secondary buyer to sell your property and move on, get involved in a project that is already under construction.
• Dr. Ashby is developing two projects at present, including a high-end luxury development on the Island of Grenada that includes four villas, 12 condos, and a 55-room hotel as well as a 16-villa resort on a private beach on the Island of Carriacou. He is investing in both developments himself and plans to live in one of the villas.
Who's Who of E-2 to EB-5
• The transition from E-2 to EB-5 is not an easy one. Interested parties should be contemplating the EB-5 program and its requirements (i.e.: viable business that facilitates ten full-time jobs) early on.
• Chinese nationals are most likely to take advantage of the Grenadian E-2 program because it allows their children to attend school in the United States. (As an added benefit, principal applicants and their spouses also have the option to attend American universities.)