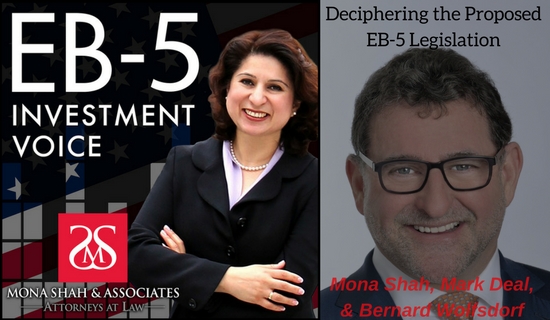 Deciphering the Proposed EB-5 Legislation with Bernard Wolfsdorf – Episode 47
Immigration Attorney Bernard Wolfsdorf joins Mona and Mark to sift through what those proposed changes mean. They address the probable increase of minimum investment, the proposed reforms around set-asides, and the possibility of concurrent filing. They also explore the current climate around immigration in the US and to assess what the proposed changes to EB-5 might look like in practice.
Bernie is the managing partner of Wolfdorf Rosenthal LLP, a full-service immigration law firm with 30-plus years of experience and offices in Los Angeles, New York City and Shanghai. He is a past president of the American Immigration Lawyers Association (AILA), the 2017 Who's Who Legal Immigration Lawyer of the Year, and one of Lawdragon's Top 20 Most Powerful Immigration Lawyers. Today he and Mona work through the proposed EB-5 reform, discussing the investment increase, new protections for investors, concurrent filing, and set-asides. They explain how EB-5 uncertainty has affected the market and the 10,000 visa issue. Mona and Bernie end with a dialogue regarding the Trump administration's latest travel ban, and the necessity for immigration attorneys to adopt a spirit of cooperation in the era of "deny and delay."
"In the old days, we used to have something called statutes and regulations. Now, it's called Rule by RFE. We become aware of issues only through the Request for Evidence. We see that the government has now changed their position…" ~ Bernard Wolfsdorf
How EB-5 Uncertainty Has Affected the Market
In the segmented EB-5 market, China must be viewed as a separate entity. China has traditionally contributed up to 85% of the total number of applicants, while the rest of the world comes in at 10-15%.
Asia boasts the top five countries applying for EB-5. Vietnam has been extremely popular in the last two or three years; it will soon have its own waiting line. There is a tremendous upsurge in Indian applicants as well, and it may reach its cap by 2020.
Smart, professional Indian nationals who are frustrated with long waiting lines realize that EB-5 is a viable alternative. Both Bernie and Mona receive more calls from Indian nationals than any other group.
The Probable Investment Increase in the New Legislation
From what Bernie understands, there is unanimous agreement in the industry regarding an increase in the minimum EB-5 investment. We are likely to see the minimum amount for targeted employment areas raised to $800K, and an increase in non-targeted areas to $925K-$1M. That will undoubtedly have a dampening effect on the entire industry.
Unlike Chinese investors, Indian nationals will be less likely to raise $1M in capital. This translates to a very busy Christmas for EB-5 attorneys managing a surge in interest prior to the December 8th
How the Proposed Regulations Function to Protect Investors
The new EB-5 legislation seeks to bring transparency to the program, as investors will be able to see when their money is deployed and returned. Investors will gain confidence, to the benefit of developers and regional centers alike.
The Effect of Proposed Regulations on Chinese Investors
One concern around the proposed changes in EB-5 involves a decrease in visas from China. As the Chinese absorb news of a long waiting line, many are starting to apply for their children—well in advance of the anticipated date that their child might come to the US.
The new legislation may not allow minors to file for EB-5 on their own. The workaround is to have the non-working spouse apply as the principal applicant, together with the very young child.
The 10,000 Visa Issue
AILA's EB-5 committee analyzed the Immigration Act of 1990, and it is patently clear that Congress intended to admit 10,000 investor-families, as opposed to the 2,500 investors and their families currently given access.
At this point, we don't expect an increase in visas in this round of legislation. We may not get this correction in the current political climate, but Bernie is optimistic that Congress will tackle the issue as part of comprehensive immigration reform within the next few years.
The Possibility of Concurrent Filing
Concurrent filing would allow for the one-step filing of the I-526 together with the I-485. If the applicant's priority date was current, he or she could get a work/travel permit within three to four months.
The change is critical for the top three countries in the EB-5 program: China, Vietnam and India. These nations do not have E-2 Treaty Investor programs allowing people to get work permits in the US.
The Proposed Reforms Around Set-Asides
The original regional center program was designed to benefit urban distressed and rural areas, but this hasn't happened. To correct this issue, Congress is trying to handicap the "good areas" by setting aside 3,000 visas for investors in rural and impoverished areas.
This strategy may not benefit new cases as Congress intends. Applicants with pending petitions may choose to reclassify under the new rules and chew up the entire quota.
The Alternatives to EB-5
Many more EB-1 and L-1 petitions are coming through both Mona and Bernie's offices. Unfortunately, EB-1 is a very narrow category of foreign nationals with extraordinary ability in the sciences, arts, education, business or athletics, and very few qualify.
L-1 visas, available to employees of an international company, are also difficult to obtain. Mona and Bernie have seen a lot of denials of late, and good petitions seem to be getting lost in the melee.
The Trump Administration's Latest Travel Ban
Effective October 18th, the new travel ban will put an end to the issue of visas for Iranians and Syrians. Hundreds will be adversely impacted by the policy, and Bernie does not believe the ban will improve the security of the US.
Mona has noticed that dual nationals are being put into administrative processing for "extreme vetting."
The Value of Working with Veterans on Difficult Cases
Though Bernie has 30 years of experience as an immigration attorney, he regularly reaches out for co-counsel on complicated cases. In fact, AILA encourages its members to work together, as it is impossible to know every aspect of the law.
Mona is concerned about an increase in badly drafted EB-5 petitions put together by inexperienced attorneys. If these cases should have to be refiled after the 90-day window (when the minimum investment increases), lawsuits are likely to follow.
The Deny and Delay Era
Policies of economic nationalism have led to the current "gotcha" culture that seeks to reduce immigration to the US. Bernie believes this to be a big mistake, as immigrants are a huge benefit in terms of creating jobs and enhancing our economy.
Immigration attorneys feel "ruled by RFE" in the current culture, only becoming aware of issues through RFEs, NOIDs, or NOIRs. We must work together in this new era of "deny and delay," and remain patient with clients who are feeling a great deal of anxiety.