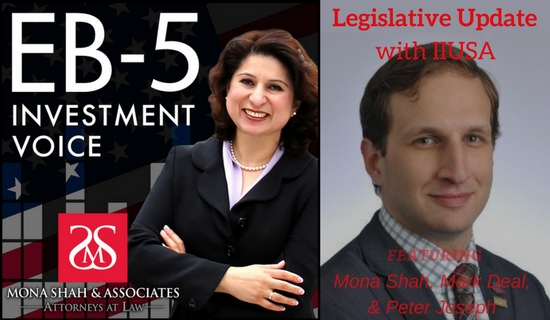 Legislative Update with IIUSA featuring Peter Joseph – Episode 46
Last week, the US government once again extended the deadline for the EB-5 program from September 30th to December 8th. Mona, Rebecca, and Mark are joined by Peter Joseph, Executive Director of IIUSA, for a status report regarding the progress toward a long-term legislative solution for the program. They explore the role of IIUSA and its influence on Congress, the worst-case scenario imposed by the DHS's proposed regulations, and the work that has been done in moving toward compromise.
*EB-5 is still evolving. Listen to our show next week for more changes and updates. Subscribe to the show using your podcast player of choice.
Peter also joined us last year to give us an update on what was happening on The Hill.
"Until we have a reform package that is passed by both chambers of Congress and signed into law, we shouldn't take anything for granted." EB-5 Investment Voice welcomes its first returning guest, IIUSA Executive Director Peter Joseph, to discuss the most recent EB-5 extension and to give us the most current information on Congress' progress toward a long-term legislative solution for the EB-5 program. Will this be the last deadline extension? And how close are we to a deal?
Peter has led Invest in the USA, the national trade association for the EB-5 Regional Center Program, since 2010. He has been quoted by major media outlets such as ABC News, Bloomberg Businessweek, The Hill and the Wall Street Journal, among others. Today he shares his expertise with us, discussing the role IIUSA plays as the voice of the EB-5 industry, how key players in congressional leadership have joined the work toward an agreement, and IIUSA's growing influence by way of comprehensive data analysis.
The Role of IIUSA
Invest in the USA (IIUSA) is the national trade organization for the EB-5 Regional Center Program. The organization includes members from all facets of the program, including developers, attorneys, financial service providers, and the Regional Centers themselves.
IIUSA's diverse membership from across the country affords the organization a national platform through which to advocate for maximizing the economic impact and benefits of EB-5. IIUSA also seeks to educate industry players and to realize the job creation at the heart of the program.
The Progress Toward a Long-Term Legislative Solution for EB-5
A great deal of work has been done in Congress to move towards compromise. Several important stakeholders represented by congressional offices report progress toward an agreement.
Congressional leadership including Senator Cornyn, Majority Leader McConnell, and Speaker Ryan has spent time working with judiciary committee leadership in coming to an agreement. The fact that these parties continue to dedicate time to a legislative solution is a very good sign.
We don't know the details of what might come out of a Congressional agreement. Investment amounts and other key issues are part of a fluid conversation, and negotiation will continue until there is enough agreement to move to the next stage. Once the framework of a deal is introduced in the form of new text or the introduction of legislation, IIUSA will be ready to comment as an industry.
The DHS's Proposed Regulations
The final action date on the proposed DHS regulations has been updated to April 2018. The positions of Secretary of Homeland Security and Director of USCIS remain unfilled, and the acting leadership intends to move on regulations as quickly as possible.
Unless we find a legislative solution soon, Peter fears that Congressional support of regulatory action is likely. It is imperative that the industry pursue a deal with Congress, as the DHS regulations proffer a far worse outcome, requiring investments of $1.2M and $1.8M.
USCIS is implementing oversight to enhance credibility and confidence in the program, i.e.: bringing bad actors to justice. But Peter argues that a legislative solution is the only answer in areas such as visa numbers, capacity relief, and failed projects.
IIUSA's Influence on Congress
The EB-5 program enjoys bipartisan support due to its reach in the post-recession economy, creating jobs and spurring economic development. IIUSA has positioned the program for long-term support via communication with other federal agencies and industry partners.
IIUSA's influence continues to grow by consistently delivering data analysis and unbiased information regarding the effects of policy reform proposals. The organization takes pride in employing the best lobbyists and public affairs team in the business to lend credibility and credentials to the EB-5 industry.
IIUSA's platform addresses the backlogs in China, Vietnam, and India via a focus on processing issues at USCIS, visa capacity, targeted employment areas, and ensuring the feasibility of compliance requirements. Billions of dollars in investment commitments to EB-5 are at stake due to regulatory and legislative as well as processing and backlog uncertainty, and IIUSA is working to address the issues operationally and through the documentation of job creation and economic activity generated by the program.
The Benefits of Joining IIUSA
Beyond supporting EB-5 advocacy efforts, being a part of IIUSA affords its members the opportunity to connect and to make informed business decisions based on relevant data. IIUSA also works to develop best practices that protect the industry from bad actors and to provide educational opportunities like the upcoming 2017 EB-5 Industry Forum in Miami.
Membership in IIUSA is not required to attend events or share relevant information with the association. The IIUSA website has a wealth of information and resources that are available to anyone who is interested.
What a Long-Term Legislative Solution Might Look Like
There is no way to predict whether EB-5 reform will be attached to legislative action on border security or deferred action or part of its own broader appropriations package. What is important is that we do all we can to work out the details of a legislative package so that we are ready for any opportunity that comes our way.
Reaching a deal is not the end of the story. Legislation must be written, reviewed and rewritten multiple times. Until an EB-5 reform package is passed by both chambers of Congress and signed into law, the industry cannot take anything for granted.