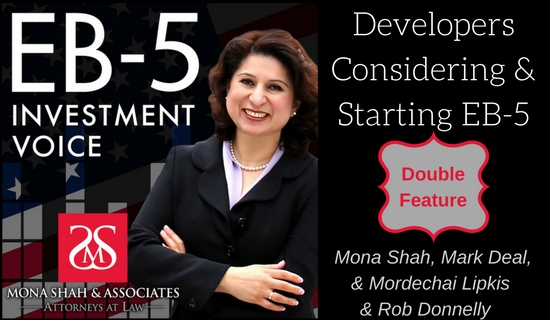 Double Feature! Developers Considering & Starting EB-5 – Episode 43
Straight Talk About Starting an EB-5
Mona and Mark chat with Mordechai Lipkis and Rob Donnelly – two experienced real estate developers in different stages of the EB-5 process.
Mordy is considering EB-5, and Rob is just getting started. They speak candidly about their frustrations with the program – and why they are moving forward with EB-5 despite its complexity.
The best things in life are not necessarily easy, and that sentiment certainly applies to the process of raising capital via EB-5. For all of its complexity, the EB-5 program has significant benefits, and today's guests each have a unique take on why EB-5 is worth the painstaking work.
Mordechai Lipkis has been in the real estate business for 32 years. He was one of the first developers to convert industrial buildings into residences in the Tribeca and Soho neighborhoods of Manhattan, and he is considering EB-5 to raise capital for a new Hudson Yards project. Rob Donnelly is an investor and entrepreneur with eighteen years of investment management, private equity and corporate board experience. Active in a variety of commercial and residential real estate ventures, he formed the Texas Regional Investment Center in 2014 to employ EB-5 for a boutique hotel development. Today Mordy and Rob share the particular challenges each has faced in attracting foreign investors, what it's like to compete with the establishment, and how they approach global marketing to raise capital.
Mordy's Introduction to EB-5
As an experienced investor and real estate developer in New York, Mordy first learned about EB-5 in industry publications. After doing some research into the program, he reached out to Mona as an expert.
Local developers are often reluctant to use EB-5, thinking the program too complex to make it worth the effort. It took Mordy a year to convince his partners that EB-5 was a viable way to raise capital.
The Hudson Yards Hotel Project
Hudson Yards is a new city within Manhattan. The development's 20 million square feet will consist of offices, apartments, a school, two shopping centers, and a subway. A number of large companies are migrating to Hudson Yards from Park Avenue and other more traditional office locations.
Mordy and his partners are developing a 220-room Marriot hotel at the center of Hudson Yards. This opportunity is a good fit for EB-5 investors, as they seek to not only receive a green card, but also get their money back.
Mordy's Frustrations with EB-5
Mordy has encountered a few 'unsavory characters' in the industry who offer the impression that money will flow easily and quickly. He cautions us to be wary of bad actors in the business who 'promise the world.'
Mordy has found it difficult to gain the attention of larger immigration agents who only want to work for the biggest developers. This forced him to work with several smaller agents to achieve the number of investors necessary to fund his project.
It can be challenging to convince foreign investors to work with someone they don't know, investing in a country they are unfamiliar with. Mordy has had success by sharing how much he has invested personally in the project, and assuring EB-5 investors that he won't see a penny until after they have been paid back.
EB-5 requires much industry around marketing your project. Mordy has just returned from a trip to China, and he argues that face-to-face contact with potential investors makes a big difference. 'Relationships are essential to marketing the project.'
The Benefits of EB-5
As an owner-developer, Mordy likes EB-5 because it allows him to retain a larger portion of ownership the project and enjoy more appreciation long-term. While many developers make their money on fees and may be apathetic about the enduring success of a project, Mordy has a vested interest in the property's long-term success.
Critics contend that most EB-5 money goes to big developers, but what lobbyists and legislators don't understand is that EB-5 also helps the 'ordinary person,' backing projects that would not get funding otherwise. Though the process takes time (which may not work with real estate developers on a deadline), the overall cost of EB-5 capital is quite low.
Rob's EB-5 Project
Rob's team established a new regional center for their project, a boutique hotel in Austin, Texas, operated by Auberge Resorts. He was introduced to EB-5 three years ago, and found that it made economic sense for this endeavor.
Rob sees EB-5 as a unique tool that plays a niche role in the financing of real estate projects. Unlike the traditional tools (bank, equity, and private mezzanine debt finance), EB-5 is more developer friendly, and it offers a lower cost of capital to the project – which enhances equity returns.
Rob's Struggle to Raise Capital Via EB-5
Though Rob has extensive experience raising capital domestically, he found that putting together an EB-5 package required additional work. He was also surprised by how slowly things move in the EB-5 process.
Rob also faced challenges in putting together the appropriate teams. He suggests assembling specialized legal and professional services teams that can accommodate EB-5.
Rob found it difficult to fight against larger, well-known regional centers with distribution, agent relationships, and economics in place. These large centers can leverage exemplar projects or I-526 filing to market projects, while Rob's regional center fights the battle of being new and unproven. Rob's team has made a concerted effort to focus on emerging, alternative markets, despite the expense associated with global marketing.
Rob's Approach to Marketing to the EB-5 Investor
Practice patience. The EB-5 investor is making both an investment and an immigration decision, considering ROI as well as personal and emotional factors. Give the potential investor time to make the right decision for himself and his family.
Educate investors about Austin, explaining why Texas is an interesting market with a favorable risk-return profile. Because of its location in a smaller market, Rob's project will have lower construction costs and less competition for the product type.
Compare projects (i.e.: Austin vs. Manhattan), demonstrating how you have minimized risk. Go through a checklist and convince investors that you have reduced the opportunities for failure.