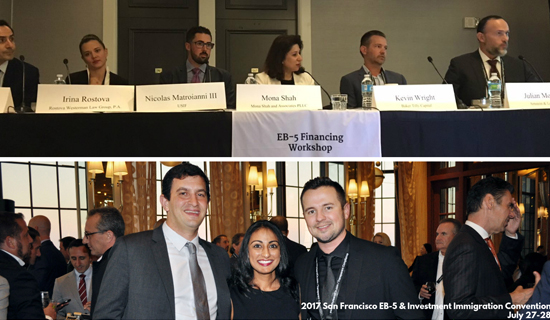 MSA Attends EB-5 Investors Magazine Conference in San Francisco
MSA Global was a Platinum Sponsor of the 2017 San Francisco EB-5 & Investment Immigration Convention, organized by EB-5 Investors Magazine. Taking place on July 27-28 at the Westin St. Francis, the event brought together over 700 EB-5 attendees from across the industry, including immigration and securities attorneys, regional centers, migration agents, developers and broker-dealers, among others.
The convention also featured 94 distinguished speakers in a wide range of interactive panels and seminars. Mona Shah, Esq. was a panelist in an EB-5 Financing Workshop on alternative markets: "Marketing to the rest of the world: Latin America, Vietnam, and other markets," where she spoke about India, Central Asia and the MENA (Middle East and North Africa) region. "Dealing with investors and agents from alternative markets differs considerably from what many have been used to; for example, while China and India share similar population sizes and economic growth figures, the similarities end there," Mona explained.
To supplement the workshop, MSA will be putting out a series highlighting new potential markets of interest for EB-5. The articles will cover a variety of regions and markets including the Middle East, Central Asia and Africa.