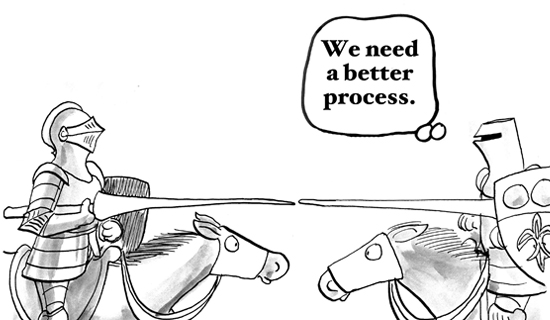 EB-5 Roundup May 2019 "The Battle for EB-5 Survival—Part 1"
By Mona Shah, Esq. and Hermione M. Krumm, Esq.
As the EB-5 industry braces itself for the onslaught of a brutal Winter, efforts continue to bring an early Spring. For the first time in the history of EB-5, we are witnessing a unification of the industry, a confederacy against the common enemy. Some key players have taken a bow and left the stage or have shifted their focus from EB-5 to alternative routes, those left know that it must be a battle to the death, as no action would certainly signal the demise of the program as we know it. It would certainly help to have a dragon or two (or a way to teleport USCIS to the Wall) we know that the wheel can be broken if not by Valyrian steel, by sheer will power.
Below is a round up of what's been going on in EB-5:
Winter is Coming……The Regulation Progress
As Winter approaches, and the OMB sneezes, EB-5 marketers rise up in a frenzy! The Spring 2019 OMB Unified Agenda of Regulatory and Deregulatory Actions was released yesterday, May 22, 2019, with updated timetables for the three EB-5 regulations in progress.
RIN1615-AC07 EB-5 Immigrant Investor Program Modernization, with proposed changes to TEAs and the minimum investment amount, is still listed as Pending Review by OMB, but moves the date for Final Rule to May 2019. Considering the end of the month is fast approaching, it is hard to predict anything would happen before June 1.
RIN 1615-AC11 Regional Center Program Regulation, with proposed changes to regional center designation requirements and process: the date for Notice of Proposed Rulemaking has been advanced to March 2020.
RIN 1615-AC26 EB-5 Immigrant Investor Program Realignment, sets the date for Advance Notice of Proposed Rulemaking to March 2020. This is the new proposal brought to the industry's attention last Fall and it aims to "solicit public input on proposals that would increase monitoring and oversight, encourage investment in rural areas, redefine components of the job creation requirement, and define conditions for regional center designations and operations". Although there is no concreate plan published as of now, the proposal showcases the agency's heightened interest in integrity, as confirmed by both USCIS Director L. Francis Cissna's testimony on EB-5 before the Senate Committee on the Judiciary in June 2018 and his speech with the IIUSA directors during their closed-door meeting in October 2018.
To briefly explain, the regulatory agenda, published in the fall and spring, is a semiannual summary of existing and projected regulations and completed actions of the Department of Homeland Security (DHS).[1]
The North, South, East and West Unite! –"The EB-5 Industry Rallies"
On May 17, 2019, a confederacy of EB-5 stakeholder groups (including IIUSA, AILA, EB-5 Investment Coalition, Rural Alliance, Real Estate Roundtable and U.S. Chamber of Commerce, amongst others) sent a letter to the U.S. Senate and House Judiciary Committees in support of a uniform set of principles to reform the EB-5 Regional Center Program before it expires on September 30, 2019. The letter outlines that the industry is in consensus with a $100,000 differential on the minimum investment amount between a TEA and non-TEA project, relief from visa backlog to be obtained by taking out derivatives from the visa count and the Regional Center's long-term reauthorization.
Re the hot topic- Redeployment, on April 8, 2019, IIUSA also sent a memo to USCIS outlining the industry's concerns and specific areas of needed clarification or changes to USCIS's redeployment policy pursuant to USCIS' request. In particular, the memo specifies again why the redeployment policy should not even exist in the first place due to lack of statutory or regulatory requirement or precedential support; and if USCIS persists in such requirement, the flexibilities it should offer to avoid issues on "material change" or withdrawal/redemption.
USCIS, First of their Name, Protectors of the Administrative Realm, Deciders of Green Card Petitions, Rule as follows:
I-526 Denials based on Denied Regional Center Amendment on Expanding Geographic Area
Major EB-5 practitioners received a mass email on May 18, 2019, informing the industry of 98 investors' I-526 denials due to USCIS' denial of a regional center's request to amend/expand its geographic area filed concurrently with the individual investors' I-526 petitions. The readers are reminded that a Form I-924 amendment must be filed, and approved, to expand the regional center's geographic area before an I-526 petitioner may demonstrate eligibility at the time of filing his or her petition based on an investment in the expanded area, following February 22, 2017, when the use of the new Form I924 became mandatory.
Interestingly enough, this requirement is not published by an USCIS policy memo or an update on its policy manual but announced and confirmed in an USCIS stakeholder meeting engagement in March 2017. Previously, the established practice had been a formal amendment was not required to expand a regional center's geographic area and permitted concurrent filing of a Form I-526 petition prior to approval of the geographic scope amendment, following a May 2013 policy memo. No updated policy memo is published, yet the May 2013 guidance was "automatically superseded" by the publication of the aforementioned updated Form I-924 on December 23, 2016.
The case demonstrates the challenge facing the industry brought by everchanging USCIS rules and lack of any procedural due process. Practitioners have no recourse but to try to "cross the river by feeling their way over the stones". A question can only be answered by direct correspondence; however, since the last EB-5 Conference held by MSA in conjunction with the Steven L. Newman Real Estate Institute and the USCIS Immigrant Investor Program (IPO), on November 10, 2017, USCIS IPO has failed to deliver any more stakeholder engagement. The USCIS website keeps updating, along with different editions of the forms (the I-526 form is updated again as of April 23, 2019), yet the channel for direct contact keeps getting tightened (USCIS has automated answering service and no longer accepts direct calls). It is frustrating, to say the least, especially considering that USCIS offers minimal guidance on some of the changes it is enforcing, for example, the major topic of redeployment that has prompted litigation on the issue.
Finally…A Trial by Combat?
As the Industry prepares for the much-awaited final outcome to be as a result of Trial by Combat, the EB-5 industry eagerly seeks their champions within Congress. We applaud the constant and bold efforts of knights and bloggers like Suzanne Lazicki (top EB-5 business writer and author of the famous LucidText blog) who fearlessly argue against the dangerous practices of the current regime. Most recently, the IPO, has been issuing RFE's that do not only or primarily question the original submission, but require petitioners and practitioners to enlist the services of a Three-Eyed Raven or sage as they "basically ask the petitioner to submit an updated collection of I-526 evidence plus prematurely provide I-829-stage evidence for actual past expenditures and job creation"[2]. The IPO needs to be reminded that we are dealing in the realms of business without taking into account the natural progression of its operations.
The Battle for EB-5 survival continues…
[1] Please see "Introduction to the Unified Agenda of Federal Regulatory and Deregulatory Actions-Fall 2018" available at https://www.federalregister.gov/documents/2018/11/16/2018-24084/introduction-to-the-unified-agenda-of-federal-regulatory-and-deregulatory-actions-fall-2018.
[2] Please see "Updates (Redeployment, Material Change, India Retrogression, I-526 processing and RFEs)", available at https://blog.lucidtext.com/2019/04/09/updates-redeployment-material-change-india-retrogression-i-526-processing-and-rfes/.
About the Authors:
Mona Shah, Esq.
UK born, Mona Shah is a dual-licensed attorney and former British Crown Prosecutor. Mona has over 26 years of legal experience with extensive knowledge of all facets of U.S. immigration law. Recognized as one of the industry leaders in EB-5, Mona has received many accolades for her work, including being voted a top 25 EB-5 attorney in the U.S. five years in a row; Top lawyer by Who's Who International; and Top attorney of North America. Her expertise ranges from specialist business law to complicated, multi-issue federal deportation litigation before the U.S. Courts of Appeal. A part-time adjunct professor at Baruch College, Mona is also a published author, a Lexis Practice Editor and co-editor of the Trade & Invest magazine (BLS Media). Mona regularly speaks worldwide and has been interviewed by mainstream news channels, including Fox Business News and Al Jazeera, and quoted in major newspapers, including the New York Times. Mona hosts and produces the EB-5 Investment Voice Podcast series (80-+episodes). Mona is a member of the Presidential Advisory Board and Public Policy Committee of IIUSA. Mona Shah & Associates Global have been instrumental in the success of numerous projects and have raised millions of dollars in investor capital.
Hermione M. Krumm, Esq.
Hermione Krumm, Esq. is an associate attorney with Mona Shah and Associates Global. Hermione's practice focuses on corporate and securities matters for issuers and developers seeking financing under the EB-5 program. She writes and comments frequently on current business and immigration issues. Her articles have been published by LexisNexis, ILW, EB-5info, EB-5 Supermarket, etc. Hermione received her LL.B. (Hons) from the University of Manchester School of Law (UK), and obtained her LL.M. from Cornell Law School. Hermione speaks fluent English, Mandarin and Cantonese.