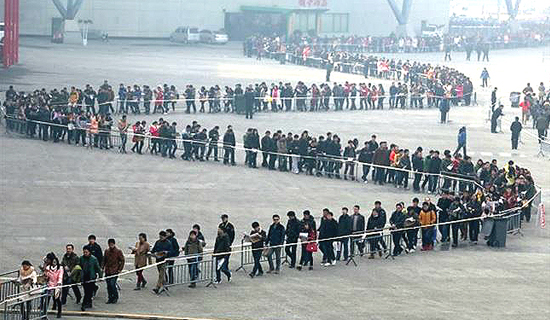 Longer EB-5 Adjudication Delays… Is USCIS on a Leave of Absence?
By Mona Shah, Esq.
.
What a difference a week can make, especially in the world of USCIS adjudications! Yesterday, without any warning, USCIS announced dramatic changes in adjudication times for petitions[1] from 21 to 29 months for an I-526 petition to 29 to 45 months. Whilst bloggers deliberate over possible causes for the delays, suggesting the increase in litigation or possible impending new regulations, the cause is quite evident – USCIS' own misguided policies. Although our primary focus is upon EB-5, it should be noted that adjudication delays across the board have reached critical levels under the present administration, despite a substantial decline in applications and an increase in resources. The gross backlog of un-adjudicated petitions continues to grow at a staggering rate, currently grossing at more than 5.6 million cases. [2]
What should be evident to Leadership is that an EB-5 slowdown has very different repercussions in comparison to other immigrant and non-immigrant petitions.
In early April 2019, USCIS responded to a February 2019 letter sent by 86 Members of the House of Representatives who demanded accountability for the agency's crisis-level processing delays.[3] USCIS' letter reveals that in Fiscal Year (FY) 2018, the agency's "gross backlog"—its overall volume of delayed applications and petitions—reached a staggering 5,691,839 cases. That figure marks a 29 percent increase since FY2016 and a 69 percent increase since FY2014. USCIS admitted that its own policies are primarily responsible for the slowdown. On May 14, 2019, led by Senators Thom Tillis (R-NC) and Richard Blumenthal (D-CT), a bipartisan group of 36 United States Senators sent two further letters demanding an assessment of how USCIS' own policies
have contributed to this trend and called for concrete plans to eliminate the agency's case backlog.[4]
On Friday May 24, 2019, Francis Cissna, USCIS' current director announced his resignation. MSA did report on Cissna's appointment, back in October 2017, citing his infamous line: "If confirmed, I commit to finalizing the proposed EB-5 rules according to the process set forth in the Administrative Procedure Act and related DHS and OMB guidance."[5]
President Trump has announced his intention to install Ken Cuccinelli II as the new director of U.S. Citizenship and Immigration Services. Cuccinelli, a former Virginia attorney general, is known for his hardline stance on immigration, including the support of repeal of birthright citizenship. It is hard to conceive that he would have any motivation to expediate the processing times, considering his opposition to (even!) legal immigrants, and that he "knows nothing about immigration, Adjustment of Status or Naturalization", per Danielle Spooner, President of the American Federation of Government Employees Union representing USCIS employees.
Such adjudication delays severely impact not only the individual applicant, but US businesses and the EB-5 program in general. It should not be forgotten that investors are placing billions of dollars in investment capital into US businesses, creating US jobs and stimulating the economy. Most projects are designed to return capital within 5-7 years. The EB-5 rules prohibit the return of the capital prior to the filing of the I-829. With significant adjudication delays and long visa backlogs, USCIS is forcing their arbitrary policy of redeployment, without setting down any meaningful guidelines. Investors' funds must remain at risk. With such potential lengthy adjudication delays, USCIS is opening an entire can of worms for potential misuse. In addition, for the potential investor sitting overseas, such adjudication delays detract from the appeal of the US over other global CBI Programs.
How far recent litigation against USCIS (notably, Zhang et al. v. USCIS et al.)[6] is to blame certainly resonates with seasoned practitioners. Without doubt 1 in every 15 adjudications shows that USCIS has been issuing RFE's and denying petitions based on a flawed interpretation of USCIS' own regulations, or a lack of understanding of the facts of the case or simply a total misunderstanding of the law or the business, requesting the refiling of documents and evidence already submitted.
It is also evident that USCIS IPO dramatically reduced processing volume in the last reported quarter (Oct-Dec 2018), with a 37% reduction from the previous quarter in number of EB-5 forms adjudicated. A reduction in petitions should have meant a reduction in processing times!
November 2017 began on a promising note, when USCIS IPO Chief Julia Harrison, Senior Advisor for Economics Jan Lyons and Division Chief of Adjudications Richard Murry last met with EB-5 stakeholders twice, once at an official Stakeholder Engagement on November 7, 2017 and at an EB-5 Conference hosted by Mona Shah & Associates Global in conjunction with the Steven L. Newman Real Estate Institute at Baruch College on November 10, 2017. The EB-5 conference was the first stakeholder conference of its kind ever organized with USCIS, and "the FIRST time USCIS is live on YouTube" [for a global audience], to quote Ms. Harrison, who spoke at the conference. Thereafter, the IPO appeared to have recused themselves from the EB-5 public, becoming more elusive and enigmatic, even the frenzy of NOIT's (Notice of Intention of Termination [of a Regional Center]) dramatically slowed down. Could this be in preparation for the potential onset of the Proposed Regulations?
EB-5 delays impact far more than just the investor and his family. To address these delays, as well as the growing backlog of 5.6 million cases, we add our voice to the thousands before us; Congress should not only conduct oversight hearings but also need to pass legislation to ensure greater accountability, transparency, and the fairer counting of visas in EB-5. Our fellow EB-5 practitioner Bernie Wolfsdorf quoted in Forbes: "True reform to the EB-5 Visa Job Creation Program should include the original Congressional intent of allowing 10,000 investor families, and not the approximately 3,000 investor families presently being admitted under a restrictive and erroneous interpretation." [7]
Leadership, please hear us! Adjudication delays and visa backlogs through poor interpretation of the laws are causing significant and often irreparable harm to individuals, US businesses and US jobs.
————————————————————–
[1] I-526 Processing: Estimated time range of 29 to 45.5 months (the previous update gave a range of 22 to 28.5 months); I-829 Processing: Estimated time range of 25.5 to 40.5 months (the previous update gave a range of 30 to 38.5 months); I-924 Processing: Estimated time range of 22.5 to 44 months (the previous update gave a range of 16.5 to 21.5 months)
[2]. USCIS's letter reveals that in Fiscal Year (FY) 2018, the agency's "gross backlog"—its overall volume of delayed applications and petitions—reached a staggering 5,691,839 cases.
[3] On 2/12/19, Reps. García (D-IL), Espaillat (D-NY), and Velázquez (D-NY) as well as 83 more House Democrats sent a letter to Director L. Francis Cissna raising concerns about USCIS's growing backlog of adjudications. The letter cites data from AILA's policy brief on USCIS processing delays. https://www.aila.org/infonet/aila-policy-brief-uscis-processing-delays
[4]Bipartisan Group of 36 Senators Calls USCIS to Account for Crisis-Level Processing Delays- AILA Doc. No. 19051433 | Dated May 14, 2019
[5] https://www.judiciary.senate.gov/
[6] Zhang et al. v. USCIS et al https://ecf.dcd.uscourts.gov/cgi-bin/show_public_doc?2015cv0995-41
[7] https://www.forbes.com/sites/andyjsemotiuk/2019/03/11/immigration-leaders-sound-alarm-about-possible-demise-of-the-u-s-eb5-investor-immigration-program/#11ee54e627a7
.
About the Authors:
Mona Shah, Esq.
UK born, Mona Shah is a dual-licensed attorney and former British Crown Prosecutor. Mona has over 26 years of legal experience with extensive knowledge of all facets of U.S. immigration law. Recognized as one of the industry leaders in EB-5, Mona has received many accolades for her work, including being voted a top 25 EB-5 attorney in the U.S. five years in a row; Top lawyer by Who's Who International; and Top attorney of North America. Her expertise ranges from specialist business law to complicated, multi-issue federal deportation litigation before the U.S. Courts of Appeal. A part-time adjunct professor at Baruch College, Mona is also a published author, a Lexis Practice Editor and co-editor of the Trade & Invest magazine (BLS Media). Mona regularly speaks worldwide and has been interviewed by mainstream news channels, including Fox Business News and Al Jazeera, and quoted in major newspapers, including the New York Times. Mona hosts and produces the EB-5 Investment Voice Podcast series (80-+episodes). Mona is a member of the Presidential Advisory Board and Public Policy Committee of IIUSA. Mona Shah & Associates Global have been instrumental in the success of numerous projects and have raised millions of dollars in investor capital.