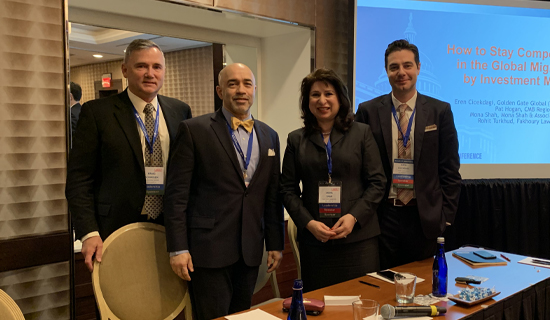 Opinion: Why we should support EB-5 Trade Association Events
By Anand Sinha, Esq.
.
The 12th Annual IIUSA EB-5 Advocacy Conference, was held in Washington, D.C. from May 5th to May 7th, 2019. As I noted lower than usual attendees, I was struck with the importance of the Industry to support such events. As EB-5 tackles major issues such as visa backlogs, USCIS Regulations, impending legislation, Redeployment, lawsuits etc., the need for the industry to be to show a united front is more important than ever. Further, conferences such as this shed critical light on emerging issues in the field as well as valuable advice on marketing and USCIS trends.[1]
This is a pivotal time period for the EB-5 community as a whole. EB-5 practitioners, investors, agents, and developers are all in agreement that the industry may soon undergo significant changes and the importance of EB-5 Industry events, cannot be understated. While in the Nation's capital, we were reminded of the criticality for the industry to be its biggest proponent and to advocate on its behalf. The conference illuminated the need for greater advocacy efforts relating to EB-5 and to demonstrate the successes of the program and why its growth could only benefit the U.S. going forward.
MSA Global was proud to have played a key role in facilitating the Keynote address which was delivered by General David Petraeus. The session was conducted in an interview format with MSA Global serving as the moderator. The General spoke with great enthusiasm of how the EB-5 industry at large needs to clearly articulate the benefits of the program to lawmakers for its continued growth and vitality. He related anecdotes from his vast military experience to the problems facing the EB-5 community today including the dire need to educate the public against common misconceptions of the industry, i.e. bad actors.
Perhaps the most pivotal and jaw-dropping moment of the conference was the Visa Update provided by Charles ("Charlie") Oppenheim, Chief of the Visa Control and Reporting Division, U.S. Department of State. Mr. Oppenheim gave his projections on visa backlogs and retrogression. Most notably, he noted that for China, the estimated retrogression for mainland born petitioners that would file an application is now 14-16.5 years and that for India, the retrogression would likely take place this summer and could be 8.4 years. Since this announcement at the IIUSA conference, MSA Global has been tracking these expected changes and will keep its audience and client base abreast of any new developments.
.
About the author:
Anand G. Sinha, Esq. is an associate attorney with Mona Shah & Associates Global. As a seasoned business immigration attorney, Anand's practice focuses on assisting EB-5 clients with intricate and detailed source of funds and path of funds issues. Anand is an ardent writer and has authored articles for Thomson Reuters Immigration Briefings series, immigration blogs, and practitioners' manuals. He is a 2013 graduate of Hofstra University School of Law where he received his Juris Doctorate degree. He also received his Master of Arts in Public Policy and his Bachelor of Arts in Political Science from Stony Brook University, in 2010 and 2009, respectively. He is conversant in Hindi and Gujarati.
[1] Mona Shah, Esq., was a panelist on: "How to Stay Competitive in the Global Migration by Investment Market." Along with her fellow panelists, Mona discussed the need to develop a global presence for EB-5 practitioners and shared stories of the firms forays into emerging markets including the Kingdom of Saudi Arabia.