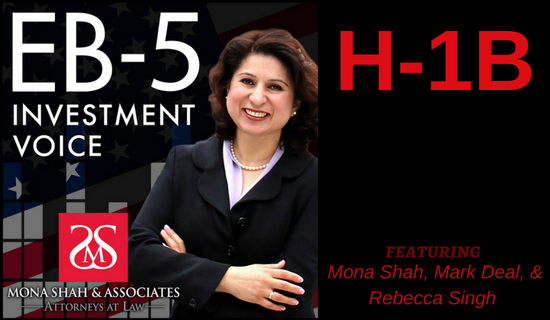 The Fine Print of EB-5 for H-1B Visa Holders – Episode 64
Many people in the US on nonimmigrant business visas are interested in using the EB-5 program to obtain a Green Card. In this episode, Mona, Mark, and Rebecca are addressing the ins and outs of pursuing EB-5 as an H-1B visa holder. They cover the options for accredited and non-accredited investors, the impact EB-5 has on the I-140, and the source of funds issues every immigration attorney should understand.
Many individuals who are in the United States on a nonimmigrant business visa like the H-1B are interested in pursuing a Green Card by way of the EB-5 program. Today on the podcast, Mona, Mark, and Rebecca are answering some of the most common questions people in H-1B have around filing for EB-5.
The start by defining when an investor needs to be accredited and the three routes to becoming an accredited investor. Mona and Rebecca also discuss the options for non-accredited investors and the rules on investing in your own company or an existing business through EB-5. They go on to cover how filing for EB-5 impacts the status of a pending or approved I-140 and the value in filing multiple applications for a Green Card simultaneously.
Mona, Mark, and Rebecca speak to the importance of finding an experienced attorney, especially now that USCIS has begun denying cases outright. Listen in for insight around common source of funds issues like gifts from friends and the use of credit cards and learn about the advantages of filing for EB-5 now—rather than staying the course with the I-140.
Accredited Investors
If you're interested in filing an EB-5 petition through a securities-related offering, you must be an accredited investor. This includes any project that has a Private Placement Memorandum.
There are three ways to become an accredited investor: 1) Earn $200K as an individual two years in a row, 2) With your spouse, earn a joint income of $300K two years in a row, or 3) Own $1M in assets anywhere in the world.
Options for Non-Accredited Investors
Investors who are not accredited can still pursue EB-5 as the manager of a direct pooled or entrepreneurial project.
Individuals with an H-1B visa CAN hold their own company, and investing in an existing business IS allowed though EB-5. However, you must show how the money is being used and prove that you are creating new jobs with the $500K investment.
EB-5 and the I-140
You are allowed to file multiple applications for a Green Card simultaneously. Thus, if your I-140 is either pending or approved, it is acceptable to file for EB-5 as well.
Don't forget that the I-526 is conditional. If, for some reason, you were to lose your I-526, you could notify USCIS that you're going back to the I-140.
If your I-140 comes through, you may withdraw your EB-5 petition, but it is highly unlikely you will get your investment back. In fact, your funds may have already been used!
Finding a Good Attorney
USCIS recently released a policy memo regarding the new practice of denying cases outright. This means they are no long required to provide an RFE or NOID.
Look for a lawyer who is familiar with EB-5 and H-1B and has experience with these types of cases. Attorneys who don't get it right the first time are subjecting their clients to the likely minimum investment increase and impending backlog.
Source of Funds Issues
H-1B visa holders applying for EB-5 tend to utilize multiple sources to make up their $500K investment—and using credit cards or funds wired from a business account raises red flags for USCIS. The applicant's lawyer needs to know the rules around source of funds and advise their client accordingly.
You can use income earned lawfully in the US toward your EB-5 investment, but USCIS is likely to restrict the use of gifts from friends in the near future. Mona recommends only counting on gifts from immediate family members moving forward.
The Advantages of EB-5 NOW
What is the benefit of filing for EB-5 now versus staying the course with an I-140? One big reason is time: Indian nationals, for example, have a 20-25 year wait via H-1B.
There is a lot of uncertainty around the H-1B program under the current administration. Trump has terminated EADs for spouses and extensions are no longer automatic.
If you get into the EB-5 program RIGHT NOW, the minimum investment is still $500K and there is no backlog for India. Also, once your I-526 is approved, an EAD is issued within 90 days.