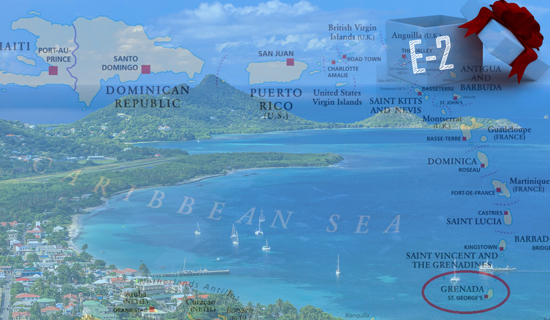 ALTERNATE ROUTE TO EB-5 VIA E-2 THROUGH GRENADA
EB-5 Investment Voice
Mona Shah & Associates Global Podcast Series
Reported by Hermione Krumm, Esq.
With issues around retrogression in the EB-5 program, aspiring investors are looking for alternative strategies. There is no doubt that E-2 visa has been the flavor of the month and legal practitioners and agents alike are passionately pursuing this alternate route for investors to come to the United States.
In this podcast, which marks the 50th podcast in the EB-5 Investment Voice series – the only Podcast series that focuses on the US immigrant investor visa, EB-5 and foreign direct investment, Dr. Christofer Ashby joins Mona and Rebecca to discuss the E-2 program in Grenada as a stepping stone to the US EB-5.
It is not the first time, however, that EB-5 Investment Voice invited guests to speak about the transition from E-2 to EB-5, as seen by our old podcast Changing Lanes from E-2 to EB-5 with Kamran Kirmani of NuRide posted on August 3, 2017 and the subsequent report (by the author). In addition, I have also had the privilege of talking about E-2 on our Chinese podcast and publishing a Chinese article on E-2 to EB-5 through a Grenadian citizenship, besides Mona – our principal partner's early publication in April on E-2.
Our guest in this podcast, Dr. Christofer Ashby, Esq. is an ambassador for the government of Grenada, working with the Ministries of Finance and Foreign Affairs on matters of foreign direct investment. He holds multiple graduate degrees from the University of Southern California, including two PhDs in music and economics, and one J.D. Dr. Ashby has 30-plus years of experience in structured finance and business development, and he is currently developing luxury resorts on Grenada and Carriacou.
Dr. Ashby caught Mona's attention after being highly recommended by many of his peers and the MSA team's extensive due diligence on most current projects in Grenada. In this podcast, Mona, Rebecca and Dr. Ashby discussed Grenada's Citizenship-by-Investment Program (CBI) and how nationals of Grenada are eligible for the E-2 visa in the US. Investment on an E-2 can potentially allow for a subsequent transition to the EB-5 program. Valuable advice was given on what to look for in a project on the island and why you should be wary of guaranteed returns.
Grenada's CBI Program
Participants looking to earn a passport can choose between a donation of $200K or an investment of approximately $400K in the end (for a family of four, it ends up being $120K to invest in a real estate project). Dr. Ashby explains that the real estate option is optimal for those using the E-2 as a stepping stone to the United States because this investment option demonstrates a physical nexus to Grenada.
The investment comes with a tax ID, a title deed and permanent residence, all of which are not offered by the donation route, the latter of which, in essence, is an economic purchase of citizenship and is immaturely difficult if not utterly impossible to obtain the E-2 visa to the US based on precedents of denials. The return on capital is also significantly higher.
Citizens from Mainland China (PRC), India and various other countries are ineligible for the E-2 program. However, investors from those countries can use Grenadian citizenship to apply for an E-2 visa WITHOUT EVER TRAVELLING TO GRENADA. The entire process can be completed from abroad, as there are NO PHYSICAL RESIDENCY OR BIOMETRICS REQUIREMENTS

!

Grenada's CBI process is a speedy one. It takes only three to four months to receive a passport. Currently, a Grenadian passport holder can travel visa-free to 121 countries, including the UK, Russia and China. (Grenada is in the process of adding the UAE to that list as well.)
Finding the Right Project
Grenada is undoubtedly sparking interest. Prominent law firms, including the "Top 25" EB-5 lawyers, are increasingly discussing the E-2 to EB-5 transition through Grenadian citizenship.
As with EB-5 projects in the US, investors should be wary and conduct due diligence of all projects.
Investors looking for projects in Grenada should ask the following questions:
Does the developer have the domain-specific expertise to deliver?
What are the sources of financing for this project?
Will the project be completed in a timely fashion?
There are about 16 approved projects in Grenada at present, but Dr. Ashby predicts that only three or four will ever be completed. Developers must have both deep pockets and a great deal of passion in order to bring a project to fruition. Projects that depend solely on capital obtained through the Citizenship by Investment program are highly likely to fail, because investor funds are slow to come by and do not arrive in regular intervals.
It is worth noting that banks will not lend against greenfield, hospitality or citizenship-type investment products in the Caribbean. Private equity is also not available to greenfield projects, except for purchase of distressed assets in the Caribbean. Investors should be wary of novice developers who have simply owned the land for decades without any applicable development experience.
Be wary of citizenship products that offer guaranteed returns and/or buybacks. Look closely at the quality of documentation on such assurances: the only way such guarantees are possible is when the amount in question is controlled by an impartial fiduciary in an escrow account. "When it sounds too good to be true, it is not true."
Investors are buying an equity stake, meaning that there is potential to earn a return on investment. Conservatively speaking, this could be a 1-4% return on investment annually. There is also the possibility of resale.
Investors are required to hold their assets for three years from the time citizenship is granted. If you are considering the possibility of a buyout after the three-year period, one should invest in a project that is already under construction and will be delivered in a timely fashion.
The risk of disruption due to natural disasters is significantly lower in Grenada than in the rest of the Caribbean due to the fact that Grenada is below the hurricane belt. It has only experienced two major hurricanes in the last 60 years: one in 1957 and another in 2004.
Dr. Ashby is developing two projects at present, including a high-end luxury development on the Island of Grenada that includes four villas, 12 condos, and a 55-room hotel as well as a 16-villa resort on a private beach on the Island of Carriacou where the Pirates of Caribbean was filmed. He is investing in both developments himself and plans to live in one of the villas.
E-2 to EB-5
The transition from E-2 to EB-5 is not an easy one. Interested parties should be contemplating the EB-5 program and its requirements (i.e.: viable business that facilitates ten full-time jobs) early on.
Chinese nationals are most likely to take advantage of the E-2 to EB-5 Pathway via Grenada because it allows their children to be educated in the United States. As an added benefit, principal applicants and their spouses also have the option to attend American universities while on E-2.
Please see the link below for access to the podcast episode: https://mshahlaw.com/alternate-route-to-eb-5-via-e-2-through-grenada/ .
Podcast is a digital radio which the audience can easily stream and download to their computers and mobile devices. The audience can also subscribe to their favorite channels to automatically receive new episodes of their favorite shows. EB-5 Investment Voice is Mona Shah and Associates' series of podcasts devoted to providing insights into the Immigrant Investor Program for foreign investors, domestic fundraisers and enterprising entrepreneurs. Tune in to our latest episodes at https://mshahlaw.com/podcast/!
About the Author:
Hermione Krumm, Esq. is an associate attorney with Mona Shah and Associates Global. Hermione works with EB-5, corporate, merger and acquisition (M&A), intellectual property and foreign direct investment (FDI) matters involving China, the UK and the US. Hermione writes and comments frequently on current business and immigration issues. Her articles have been published by LexisNexis, ILW, EB-5info, EB-5 Supermarket, etc. Hermione received her LL.B. (Hons) from the University of Manchester School of Law (UK), and obtained her LL.M. from Cornell Law School. Hermione speaks fluent English, Mandarin and Cantonese.