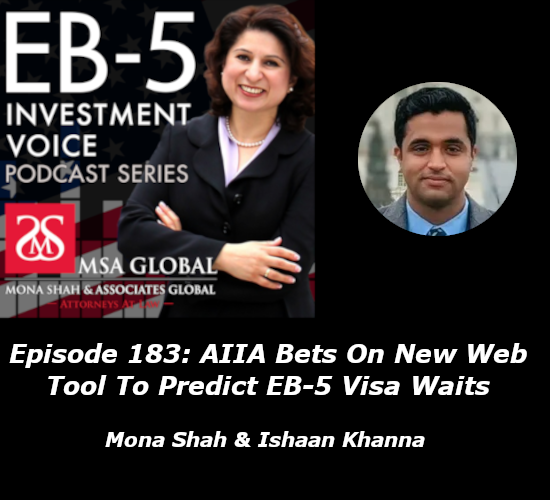 Episode 183: AIIA Bets on New Web Tool to Predict EB-5 Visa Waits
Ishaan Khanna of the American Immigrant Investor Alliance ("AIIA") joins us for today's episode, bringing with him his expert opinion and an exciting possibility for the future of EB-5 immigration. Also: has EB-5 become too litigious? Have all Regional Centers, at one point another, been involved in a lawsuit? Our experts weigh in and discuss the pros and cons facing any investor that may be considering filing a lawsuit, as well as the conditions that might lead an investor to consider litigation.
Ishaan, who has gone through the EB-5 process himself, knows firsthand just how dramatic the shift towards longer wait times has been. As President of AIIA, he is able to provide insight into why applicants are facing these wait times, and how the ensuing frustration has affected peoples' attitudes towards EB-5. He also offers a solution that will help keep petitioners' minds at ease: a straightforward, data-driven wait time calculator. You'll hear Mona and Ishaan talk about the purpose of the calculator, how the data was obtained, and what this revelation could mean for EB-5 applicants and practitioners alike.
Mona and Ishaan have a frank discussion about how organizations such as AIIA are fighting to keep the EB-5 process appealing to investors! Ishaan details the ways in which AIIA is pushing for industry outreach and engagement beyond the development of the wait time calculator, such as lobbying efforts, donations, and the frequent exchange of information between EB-5 professionals of all kinds. AIIA has also more than once filed an amicus brief on behalf of investors, and Ishaan tells our listeners what it is like operating within the DC Circuit Court and provides an exclusive look into how DC judges are feeling about the influx of mandamus cases against USCIS.
Read our recent article on the wait time calculator here.
---
---
Some highlights from the episode:
Ishaan: Just from an investor perspective, given the existing processing times and how long it's taking for things to move forward, I don't think a lot of high net-worth individuals feel inclined towards investing in EB-5 when the wait time just to move to the country could be around four or five years.
---
Ishaan: I do come across investors who do say to me that, "yes, I was aware that there was a risk of a backlog, and I'm fine dealing with it. I just want some accurate information as to how long this backlog is."
---
Mona: I find this is going to be extremely useful and I'll tell you where: when we speak with families who are wondering whether or not a child who's maybe 18 or 19, whether that child will age out. That's where this is really going to be useful.
---
Ishaan: USCIS doesn't care if the investors' project was successful or not. So at the end of the day…when it comes to EB-5 being overly litigious or something like that, no. I, in fact would say the opposite. I don't think it's litigious enough. I think a lot of investors aren't aware of what their rights are, and I think that's a big part of what we do is make them aware: Hey, this is what the US Court and Justice System provides to you.
Mona: I do agree with you that it is good to know your rights and everything, but I also happen to think that there are times that litigation is not correct, and there are times that unfortunately an investor might end up spending funds he would not normally have spent on litigation which shouldn't really have happened.
---
About our guest:
Originally from New Delhi, India, Ishaan Khanna was in his senior year of college majoring in Information Systems when he found out about the EB-5 program. He realized the United States had a tremendous amount of professional opportunities to offer and after several months of research, he invested and applied for his EB-5 visa in 2016. Ishaan was soon hired by the same investment issuer he had invested with and over the next few years, raised a significant amount of EB-5 financing for various offerings. Having gone through the process himself, he was able to help many of the families he worked with to navigate the complexities of the EB-5 program. Currently based in Washington D.C, Ishaan serves as the President of AIIA, where he continues his goal of advocating for the EB-5 investor community. By sharing his experience and knowledge with current and prospective EB-5 investors, he hopes to help them on their path toward permanent residency in the United States.
Previous episodes featuring Ishaan Khanna:
American Immigrant Investor Alliance – Episode 146 – Mona Shah & Associates Global (mshahlaw.com)
Regional Center Reauthorization Update – Episode 148 – Mona Shah & Associates Global (mshahlaw.com)