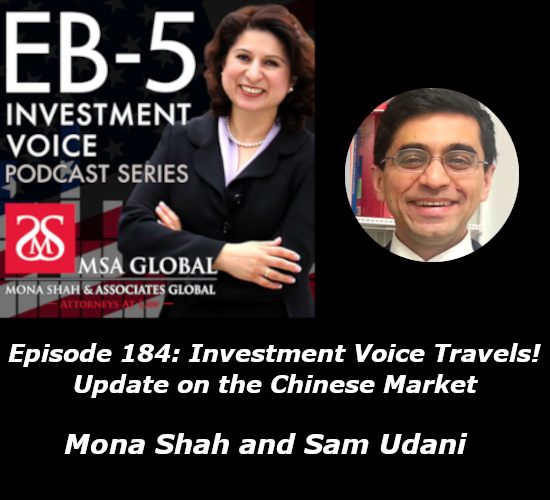 Episode 184: Investment Voice Travels! Update on the Chinese Market
The Chinese market has been a huge factor in the success of the US EB-5 program. The flow of investors from China completely slowed down following the backlogs (from 2018) and COVID. As this lucrative market cautiously re-opens, EB-5 Investment Voice discovers what is happening as we converse with Immigration Law Worldwide's ("ILW") Sam Udani as he continues his travels through Southeast Asia.
This episode has been entirely devoted to China. Sam has much to say about the current EB-5 market in China, and how its "volume and velocity" sets it apart from the rest of the world. For a long time, China had cornered about 80% of the EB-5 market, and while that saturation might be over, they are still a dominant force, and will continue to cast a long shadow over the industry. That said, just what are the trends Sam discovered during his trip?
Last time, Mona and Sam began a discussion about one of the major aspects of immigration from Southeast Asia: migration agents. Listeners will hear about how migration agents function differently in China, and whether something has shifted between the older, seasoned agents and the new set, and just how much activity these agents are overseeing.
And of course, we couldn't explore changes in the market without mentioning the Reform and Integrity Act ("RIA"), which in many ways turned the entire EB-5 industry on its head. Sam and Mona discuss whether Chinese investors are quick to take advantage of concurrent filing, and touch on Congress' intentions and their control over the program.
As the market goes strong, the influx of new developers can lead to longer wait times. How will this affect the ability of Regional Centers to reach their raises? What kind of changes are we seeing in the amount of equity invested? What parts of the globe are garnering new, enthusiastic interest from investors?
Listen below for an expert analysis on all this and more.
---
---
Some highlights from the episode:
Sam: It's important to realize a lot of people here in the United States are probably feeling that, oh, it was because of the widespread disappointment in the Chinese populace about their government's awkward handling of COVID which has caused people to lose confidence in their government, and they're looking for greener shores. That is utterly not true. I'm not suggesting there can't be individual families who might have such a motivation. The real motivation is clear that ten years was a big deterrent to families considering moving to the United States, using the investment program to two years, which almost everyone in China views as a very reasonable number. But again, remember, the two years is history already…by the end of July. And to prove that of the five biggest projects in terms of numbers of slots, all five are rural, by the way, which have been in the market in the last 30, 60, 90, maybe a little longer, 120 days. Three out of the five biggest projects all sold out already…I want to underline the volume and velocity. It really knocked me off my feet when I arrived in China and started talking to agent after agent after agent after agent.
---
Mona: Is it worth new developers going into China right now? There's a lot of effort to go into China, getting documents translated and just meeting and sort of working with agents. It takes time, it takes money. Is it worth it?
Sam: Yes and no. On the one hand, if you say, well, is it going to be worth it to get the money? Yes. The answer is a definite, unqualified yes. But where's the no? The no is really straightforward. I mean, if I were in the shoes of a developer who would be considering a trip to China, I would definitely be telling everyone who's subscribing to my issue that, look, there's a lot of volume, there's a lot of demand, as best as we can tell. So please bear in mind the availability of visas is sharply limited.
---
Sam: What we are seeing…is that the demand that they are seeing from investors is approximately 70-30 in favor of rural. 70% rural 30% urban. That's what they showed, which is almost exactly in line with what Congress had in mind. But there is a deeper point here. There is, I think, a move towards going even greater into rural than 70-30. And the reason is that there…[are] projects which took advantage of the fact that the Bureau of Labor Statistics reporting of unemployment numbers is obviously in arrears.
---
Our guest:
Sam Udani has been involved with the immigration community in the USA for most of his career spanning three decades, involving immigration politics and immigration policy and covering all manner of immigration into the USA, including refugees. He has been a tireless advocate for enlightened immigration laws for the USA since ACWIA, AC21/ACTA and continuing from then on. Mr. Udani currently serves as the Law Publisher and CEO of ILW.COM and Immigration Daily, a position he has held for over twenty years. As Publisher, he directs all activities of the website and newspaper with over 50,000+ pages of free information on immigration law that receives 250,000 visitors per month. Under Mr. Udani's direction ILW has conducted 600+ CLE seminars, published over two dozen immigration law books and conducted hundreds of immigration events in over a dozen countries. Earlier in his career, Mr. Udani founded an advertising agency and a small company in international trade.
Previous episodes featuring Sam Udani:
2020 U.S. Election Special – Episode 130 – Mona Shah & Associates Global (mshahlaw.com)
A Frenzy of EB-5 Updates – Episode 144 – Mona Shah & Associates Global (mshahlaw.com)
Regional Center Reauthorization Update – Episode 148 – Mona Shah & Associates Global (mshahlaw.com)
New Legislation on EB-5 is here – Finally – Episode 155 – Mona Shah & Associates Global (mshahlaw.com)
Episode 181: Update On EB-5 Markets in Vietnam, Taiwan, and South Korea – Mona Shah & Associates Global (mshahlaw.com)