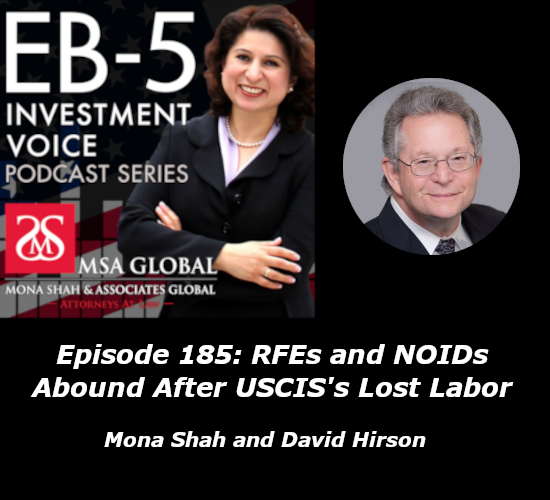 Episode 185: RFEs and NOIDs Abound After USCIS's Lost Labor
In today's episode, we are joined by David Hirson of David Hirson and Partners to discuss two of the biggest albatrosses plaguing the EB-5 industry: the dreaded Request for Further Evidence ("RFE") and Notice of Intent to Deny ("NOID"). Our experts use the power of their informed, passionate voice to send a message to USCIS that baseless requests and Draconian denials cannot continue to be a pattern.
Despite USCIS's claims that they are constantly working towards an improved, thorough but streamlined adjudication process, practitioners are encountering these massive speedbumps in alarming amounts. Mona and David dive into why we think these RFEs and NOIDs are so prevalent, and what can be done to curtail them, or to handle them when we must.
There are a number of unfortunate factors that have led to an increase in USCIS's fumbling. Staffing shakeups coupled with the so-named Great Resignation have meant that the individuals adjudicating EB-5 petitions are facing a lack of understanding of the nuances of the program. What other factors could be at play? Are USCIS adjudicators simply going through the motions, defaulting to a decision of denial in order to meet quotas and deal with the pressure to be productive? Or is it simply genuine naivety, right down to the differences between Direct and Regional Center projects?
The problem with RFEs and NOIDs goes far beyond all of the extra work practitioners must do in order to fend them off—David and Mona get into why they think USCIS is overlooking the devastating consequences a denial can have on the petitioner and their families.
Another aspect at play is the cultural shift USCIS has experienced in recent years; there was once a time when transparency was encouraged, when USCIS would have in-person meetings with EB-5 practitioners in order to build understanding. Is it possible to go back to those days? Listen below for our expert insight.
---
---
Some highlights from the episode:
David: We are facing this issue. It's serious, it's going backwards. Ten years, and it's very, very frustrating. Clients are going crazy…waiting for these very lengthy delays in adjudication and then finding that [USCIS is] digging back to stuff that was previously adjudicated favorably, applying the latest rules to what was done is being done today versus what was done then and saying: 'well, that's the law now,' and that just doesn't make any sense. The basic tenet of us. Jurisprudence is that you don't do retroactive legislation.
---
Mona: USCIS suffered from The Great Resignation just like all of us did. This is an industry-wide issue, that staff was lost. But the difference is this is not something that you can just pick up in a day. EB-5 is difficult. EB-5 is nuanced. EB-5 requires a lot of skill and dedication. I don't think that USCIS have managed to find experienced EB-5 people, EB-5 practitioners of any sort, to really look at these adjudications.
---
Mona: I would like to point out [the] devastating consequences a denial. Let's take a denial of an I-829. At the I-8229 stage, especially after all of these delays, we're looking at someone who's invested maybe 8 years ago, maybe longer, and who perhaps has their family in the United States, who've got a life now in the United States. To receive a denial after so many years, it's absolutely heartbreaking and devastating for that particular person.
David: You're absolutely right. I don't think that many of the immigration officers see the family, the emotion and the seriousness of what they're dealing with. They see it as they go around for a drink after work and say, 'you know how many I managed to deny today? Wow, I'm doing well at my job.'
---
Click here for our article on The Great Resignation and its effect on USCIS's productivity.
---
About our guest:
David Hirson has nearly 40 years of experience in the practice of immigration law. His focus is on EB-5 investment immigration law. He has been certified as a Specialist in Immigration and Nationality Law by the State Bar of California, Board of Legal Specialization continuously since 1990. In November 2022, he and Mona Shah announced the launch of Gravitas, a joint venture that will employ the skill sets of both attorneys to assist clients in navigating the increasingly complex world of EB-5.
Previous episodes featuring David Hirson:
Making the Right Choice Between Regional Center and Direct Investment with David Hirson – Episode 53 – Mona Shah & Associates Global (mshahlaw.com)
Recertifying Regional Centers Part 1: Differing Approaches – Episode 160 – Mona Shah & Associates Global (mshahlaw.com)
Episode 175: Three's a Crowd! – Mona Shah & Associates Global (mshahlaw.com)