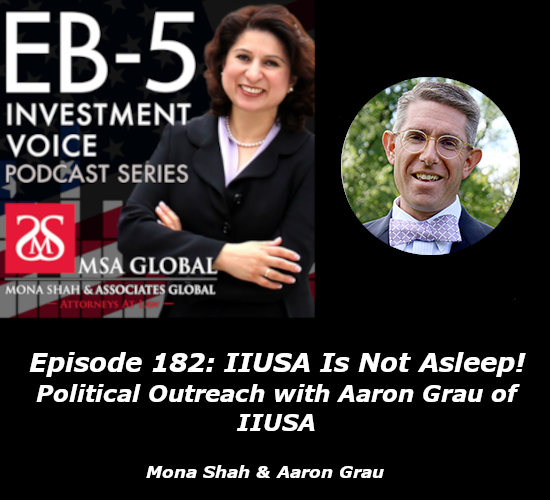 Episode 182: IIUSA Is Not Asleep! Political Outreach with Aaron Grau of IIUSA
IIUSA Executive Director Aaron Grau is back on EB-5 Investment Voice to talk to Mona about some pressing issues facing the EB-5 industry today. The two experts discuss the importance of consistent political outreach and the education of our Congresspeople about the program, and how it can protect the future of EB-5 and the US economy. Furthermore, Aaron and Mona review the industry-wide disappointment over USCIS's recent lackluster stakeholder engagement and the cost of constant litigation.
Mona and our esteemed guest also make the perhaps controversial suggestion that it may be time for USCIS and EB-5 to part ways. Listen below to learn about the above problems and the experts' proposed solutions.
Mona: We are all so disappointed on so many fronts right now. We are excited and yet disappointed. And I think the disappointment is coming from USCIS, not just their stakeholder meeting, but their real lack of being able to push this program forward. Does there seem to be a hurdle at every stage? …Last time you were on the show, you did voice your opinion about moving the project side of EB-5 to perhaps a different department, say the Department of Commerce or elsewhere. Do you think you're going to continue advocating the same stance?
Aaron: Oh yeah, I am. It's possible that leadership or my own revelations can curtail that. …What I've come to believe is that USCIS is simply not constructed to handle EB-5.
---
More highlights from this episode:
Aaron: I imagine USCIS will come around to developing new regulations. I don't know in what format or on what timeline, but all of but the new legislation…will all require bootstrapping and education and reeducation about how the program works, and how it's working now as opposed to how it was working before the law. So a lot of what we do when we go to foreign markets is education. Plain and simple panels that include experts from EB-5 and IIUSA's membership. Talking expressly about new topics, what's different, what folks need to understand and take into consideration, what due diligence means under the new program…Education is a big part of what IIUSA does.
---
Aaron: Like it or not, bureaucracy has a role to play in our society. It's an important element of our government, and I know that that is counterintuitive to what a lot of people think and believe or believe should be the case, but that bureaucracy enables consistency, if you will, among work that is done at the federal level or the state level, or the county level or the city level.
---
About our guest:
Aaron Grau is the Executive Director of IIUSA, the national membership-based nonprofit for the EB-5 Regional Center Program. To date, IIUSA represents 200+ Regional Center members and 120+ Service Provider members across the country serving 47 states/territories. Regional Centers account for billions of dollars in EB-5 capital formation. Concretely, our work has empowered our members to create tens of thousands of jobs in a wide range of industries and American communities, generating over $32 billion dollars in foreign direct investment at no cost to the U.S. taxpayer.
Previous episodes featuring IIUSA's Aaron Grau:
Episode 73: Representing EB-5 Stakeholders on Capitol Hill
Episode 112: Current EB-5 Issues On Capitol Hill
Episode 130: 2020 U.S. Election Special
Episode 140: EB-5 In Danger, Act Now!
Episode 141: A Tumultuous Week for EB-5